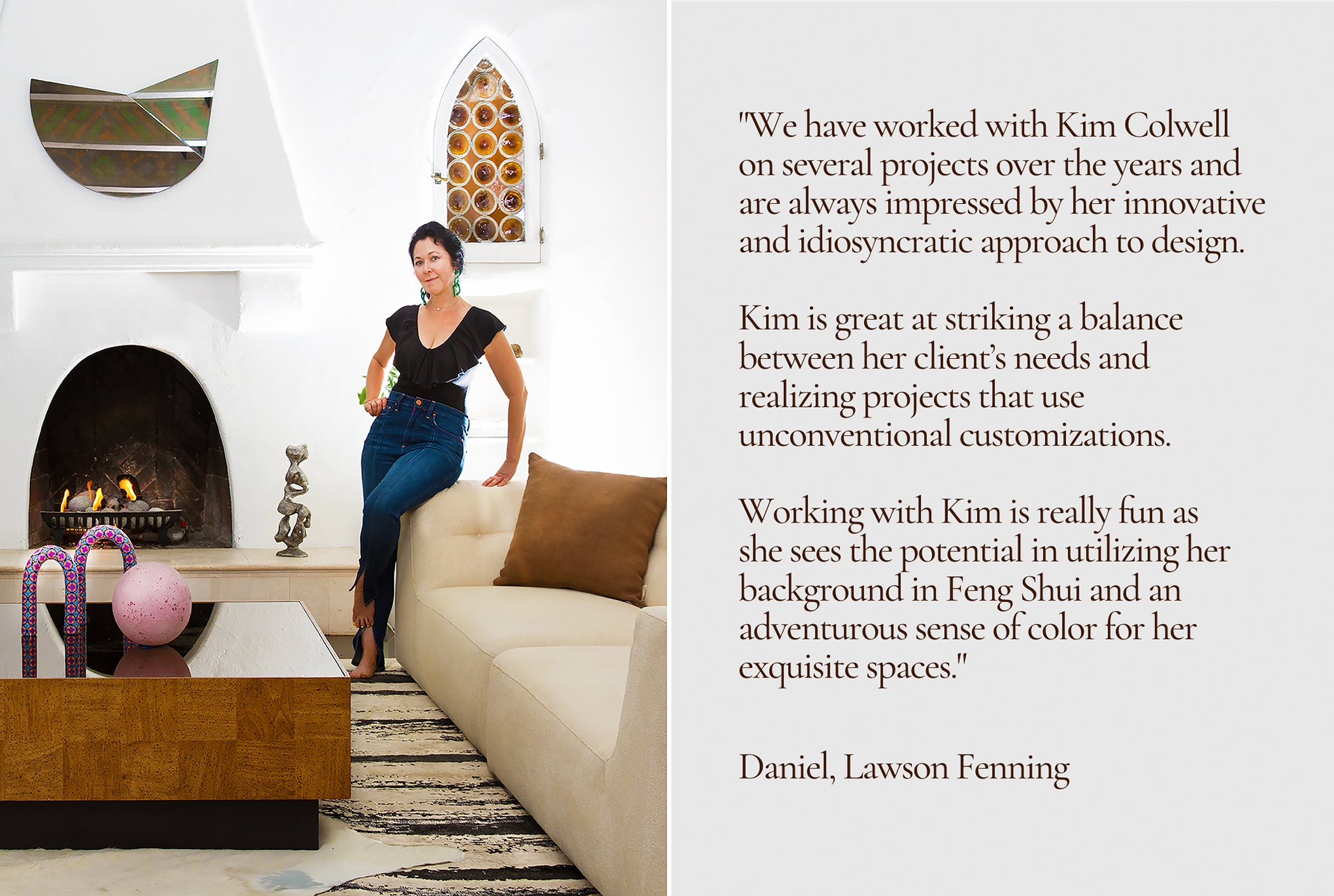 Transformative Interior Design | virtual services now available
Design for healing, well-being. Sacred dream building. Vision making. Decompressing, or…simply living your best life.
What is Transformative interior design?
A mindful, holistic approach to interior design that strives to create nature reverent environments that resonate with bespoke beauty and a powerfully restorative ambiance.
Kim's methodology utilizes her background as a fine artist, daughter of renown shaman, and second generation feng shui master with extensive study in biophilic design and environmental psychology.
Multi-layered designs that transcend the aesthetic
Using skill and deep listening, she'll discover your personal vision and create a signature customized style that supports your lifestyle goals.  
Whether you wish to stimulate creativity, promote greater calm and well-being, create a sublimely romantic bedroom or a healing retreat, the result is a beautifully stylized environment with warm, feel-good vibe. 
Unique Offerings:
WARM FLOORPLAN with balanced autonomous and social areas.

SOPHISTICATED COLOR STORY that considers which colors are best for you personally, how each color may impact your mood.

CUSTOMIZED DESIGN – When clients struggle to articulate their sensibility, Kim has an intuitive process of discovery that allows her clients to feel seen, heard, and understood in the finished design.

WELLNESS DESIGN STRATEGIES – Upon request, Kim is trained to create a design that supports your personal needs such as a sleep, stress, harmony within your relationship or emotional wellness.

FENG SHUI principles are utilized to release the flow of harmonious energy.

CREATIVITY – Kim's background as an artist fosters a high level of imagination so every design element and detail is bespoke.
An expert in wellness design, multi-generational feng shui master and Tisch-trained artist, Kim Colwell works with decorative genres that impact every aspect of your emotional and spiritual well-being.
Range of Scopes
Kim Colwell Design offers a range of transformational interior design services from new construction, full service remodels to small decorative refreshes.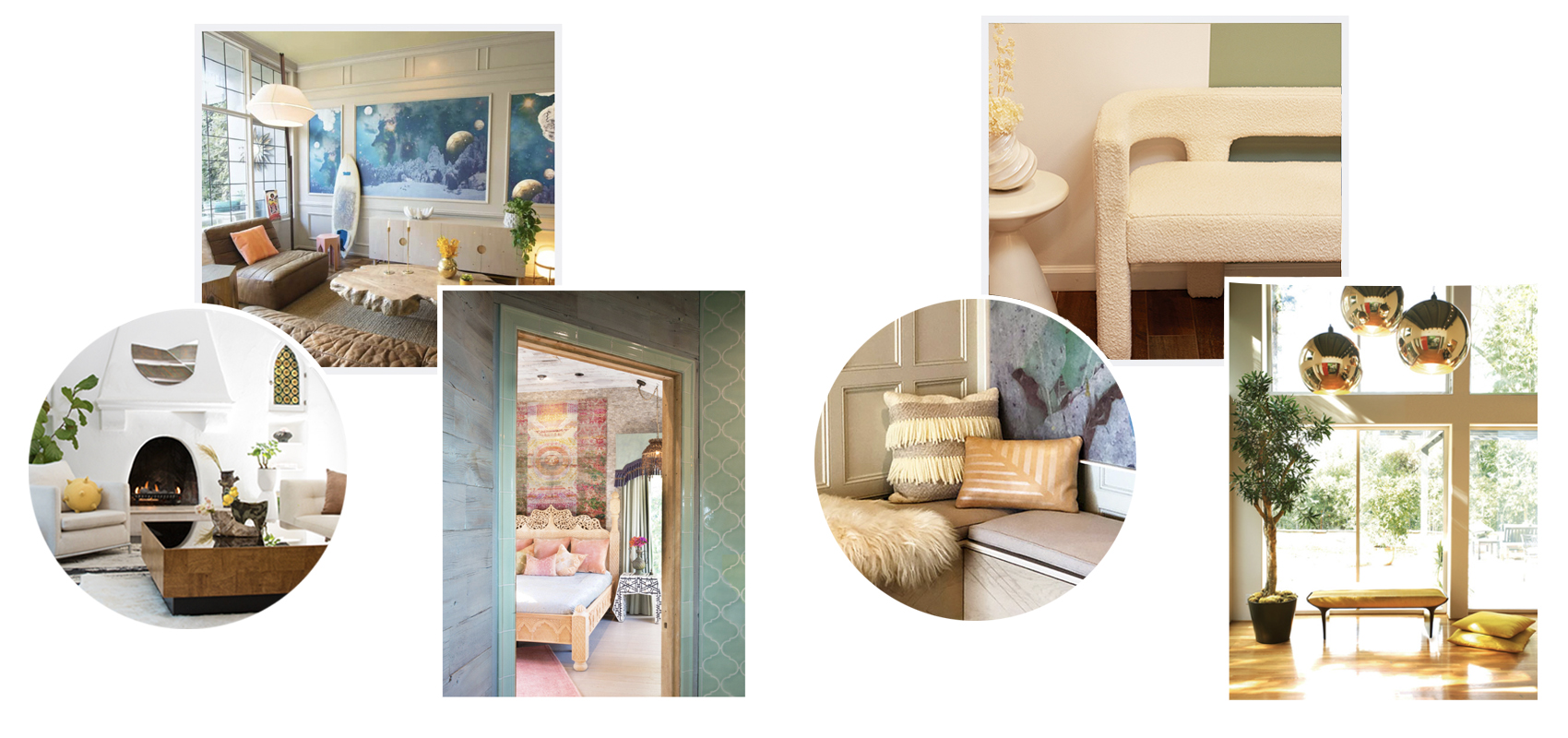 Interior Design Services
Bespoke Concept Development

Space Planning with Feng Shui 
Full Service Residential & Commercial

Remodel

Kitchen & Bath

New Build

Decoration 

Electrical Plan

Interior Renderings

Customizations 

Interior Architecture

Furniture
Window Treatments
Wall Features
Upholstery
Cabinetry

Selections 

Materials &

Finishes

Art Curation

Colors Concept 
Project Management

Personalized Client Care and Attention to Every Detail

Purchase Management – with Special Discounts

Technical Drawings

 
How We Work | onsite, travel or by virtual means
Kim Colwell Design is based in Los Angeles and accepts onsite appointments.  Virtual residential interior design services are also being offered to clients across the globe. 
If you'd like to schedule a consultation for full residential transformative interior design services please email us directly.  We will return your message within 24-48 hours.
If you have a conservative project and are interested in learning more about any one of our smaller design packages, please click the links below:
See what our clients have to say about the signature spaces we have created for them.
Fees are negotiated based on the specific scope and needs of the project. Kim works with any decor style, whether it be contemporary, traditional, farmhouse, bohemian, eclectic, modern and more. She can even fuse many styles together to customize your perfect, personalized look.