Feng Shui Consultation | use your environment to make manifestation happen
Book your feng shui consultation to add  warmth to your home, vitality to your health, harmony to your relationship
FENG SHUI | who benefits 
Homeowners in fully decorated homes, before or after a move or in the beginning stages of a search for a new home
Corporate environments, hospitality or retailers in existing spaces, recent relocation or beginning the search for a new location
New construction – residential or commercial – from plot to fully drawn plans, construction midpoint or newly built home
Real estate agents and staging designers representing buyers or sellers
Architects, interior designers, landscape designers, and edible estate managers wishing to add a layer of depth to their projects or learn about shamanic gardening and permaculture
Rental properties
A UNIQUE APPROACH
As a second generation feng shui master with extensive study in environmental psychology and the daughter of a renown shaman, Kim's consultations are unique.
She has designed her consultations to be an integration of feng shui, interior psychology and shamanic principles. By fusing these three disciplines into a single powerful system, they revolutionize the way your home or business functions, uncovers the hidden blocks to your growth and success and unlocks your full potential to empower your life.
EXAMPLES | what may be covered in your session
Placement of furniture, art and decorative objects  to create balance, warmth and inspiration

Manifestation strategies for your career, health and relationship.

Principles of Interior Psychology, a therapeutic process which analyzes how your space effects your emotions, belief system, motivation, and emotional/sensory response to your space.

Each consultation offers personalized information to set up the space in the healthiest way for you as an individual, couple, family, or business.

Activate your career, relationship and health goals through our Bagua analysis. 

Eastern 5-element system to balance your environment and enliven your Qi (energetic feel) within the space.

Energetic Analysis: Is your space stagnent which can impact your health? Rushing too quickly which can impact your finances? Frenetic which can trigger anxiety? Suggestions will be given to create a calming, grounding environment for your mental, emotional and life well-being. 

Upon request we can add COLOR THERAPY. Personal wellenss colors are given using a combination of traditional feng shui, interior psychology and shamanic astrology.

Wall floorplan for construction

Electrical floorplan for remodels

Furniture floorplan 

Art layout/placement and upon request curation. 

De-clutter stategies for physical visual and emotional clutter. Each type of clutter has a different type of effect and solution. 
SUGGESTED ADD ONS | these services go well with your feng shui consultation
Home Refresh
Paint or Color Therapy
Interior Psychology
Interior Design – Decorative or Remodel
House Blessing Ceremony (scroll down)
Feng Shui Chart (scroll down)
KIM COLWELL | feng shui background
Kim's education started in childhood taking hundreds of hours of classes from her family's company Shambhalla Institute, one of the most comprehensive feng shui training institutions worldwide. 
As a second generation feng shui master, her mother taught her to incorporate Native American techniques as a keeper in the Seneca Tradition of the Medicine Wheel of Peace bestowed to her by Grandmother Twylah Hurd Nitsch.
Kim possessing a rare talent for shifting space to transform people's lives; she gives you the tools you need to bring balance and well-being to your emotional life.
Learn more about Kim here.
BOOK A FENG SHUI CONSULTATION NOW
Onsite or Virtual
ONSITE FENG SHUI CONSULTATION | los angeles
To book a feng shui consultation with Kim Colwell for your home, office or commercial space please call us at 323.309.2945 or email kim@kimcolwelldesign.com
Fee: $250 per hr (1.5 hr minimum)
Virtual Feng Shui Consultation | zoom
Kim works with clients across the globe via Zoom. She'll assess your home, office or retail space through photographs, a set of plans or hand written drawing of space (don't worry, she'll guide you) videos, FaceTime.
Fee: $250 per hr (1.5 hr minimum)
Feng Shui Services | onsite + virtual
BOOK NOW | or general inquires 
Please call 323.309.2945 or email us at kim@kimcolwelldesign.com
FENG SHUI CERTIFICATION CLASS | private or group
GET TRAINING FOR YOU OR YOUR TEAM IN THE ART AND SCIENCE OF FENG SHUI
Kim Colwell offers introductory and certification feng shui residential, commercial and house blessing classes through the Shambhalla Institute, which was founded in 1991 for the study and application of how environment directly impacts one's quality of life. Click here for more information and a full list of classes. 
Fee: $1,995 Private + $1,495 Group 
 Online or In-Person (Los Angeles) 
HOUSE BLESSING CEREMONY | Los Angeles only
Enliven the sensory experience of your space to rejuvenate yourself and bring focus to your goals
This special ceremony clears away residue energies, revitalizes your chi (Qi) and takes you on an exploration of life purpose. It is used as a tool to focus on your goals and re-connect with self through a guided visualization and shamanic clearing techniques along with an ancient pathway used to revitalize energy. 
When to do a House Blessing ceremony?
After moving home or office

To rejuvenate yourself or space

Special life events, transitions or weddings

Before selling home or office
Fee: $385 (1.5 hr) 
PERSONALIZED FENG SHUI ALTER | onsite or virtual 
Personalize an alter to evolve spiritual growth, manifest your goals, honor your loved ones
Utilize Kim's background in design, shamanic arts and feng shui. Her stylish alters are harmonized with natural energies and personalized to your intended goals.
Fee: Starting at $250 
CUSTOMIZED FENG SHUI CHART | residential + commercial 
Each chart outlines a map of primary and secondary bagua areas (career, relationships, abundance, health, etc); feng shui color placement, remedies for feng shui issues and important spots to stimulate energy.
Fee: Prices start at $385 for single level homes under 2,000 sq ft. Larger projects are estimated by square footage. 
FENG SHUI LECTURES | invite kim to speak – onsite or virtual
Personalize a private talk with your friends, colleagues, event or venue 
Engage Kim Colwell to speak or lead a conversation about design, feng shui or interior psychology. Popular topics include but not limited to:
Personalized use of color to stimulate mood and manifest career, relationship and health goals
Harmonize your existing relationship or manifest a new one
How to use feng shui and interior psychology to bring career goals into fruition
How to use interior psychology to create a space that can impact your behavior, emotional state and life
Customized lectures upon request
Email kim@kimcolwell.com for more information.
Feng Shui Transforms the Feel | case studies
Slide the arrows below to see how feng shui adds a layer of emotional resonance to Kim's interior design projects. Review our case studies and see how our signature feng shui process works.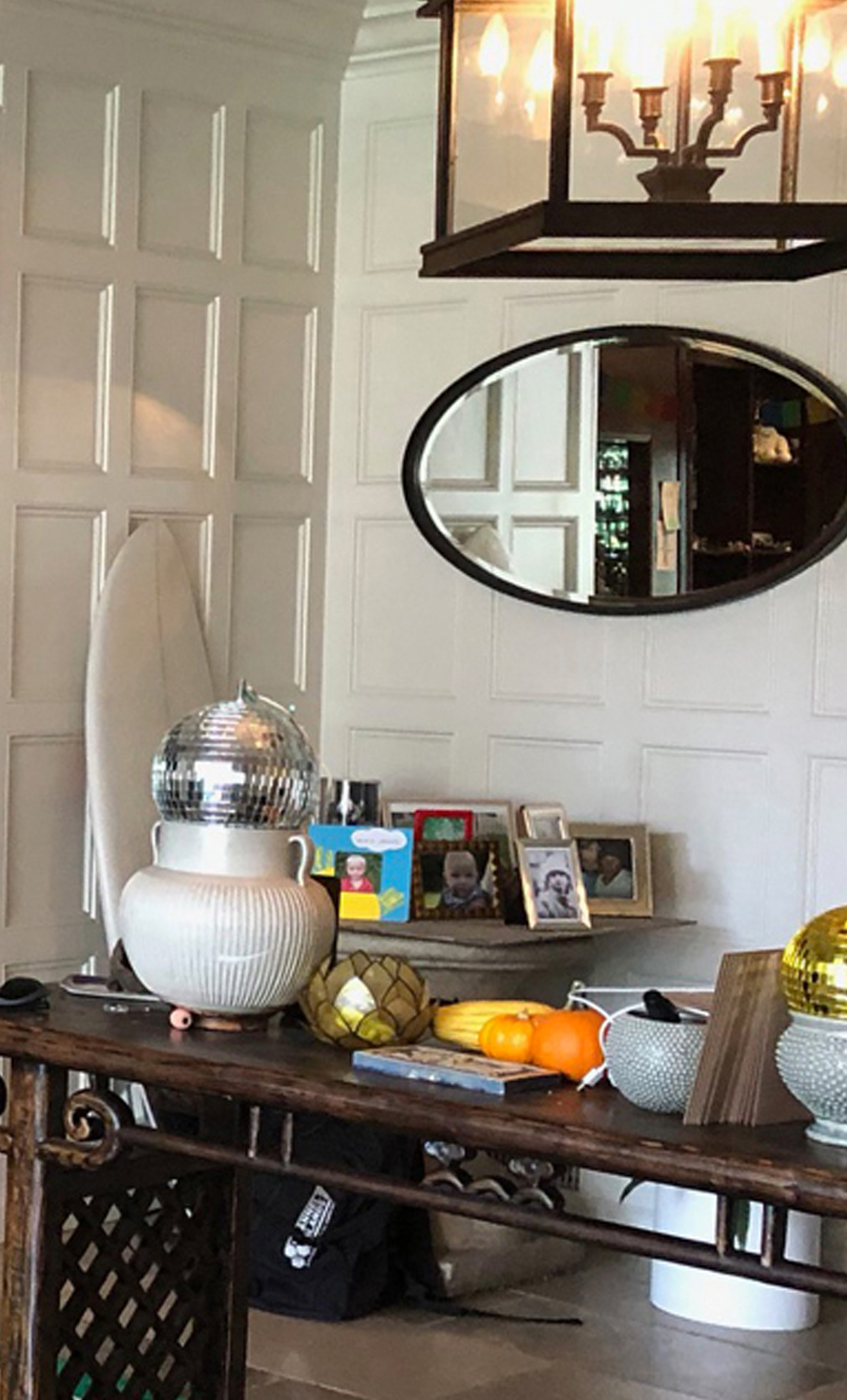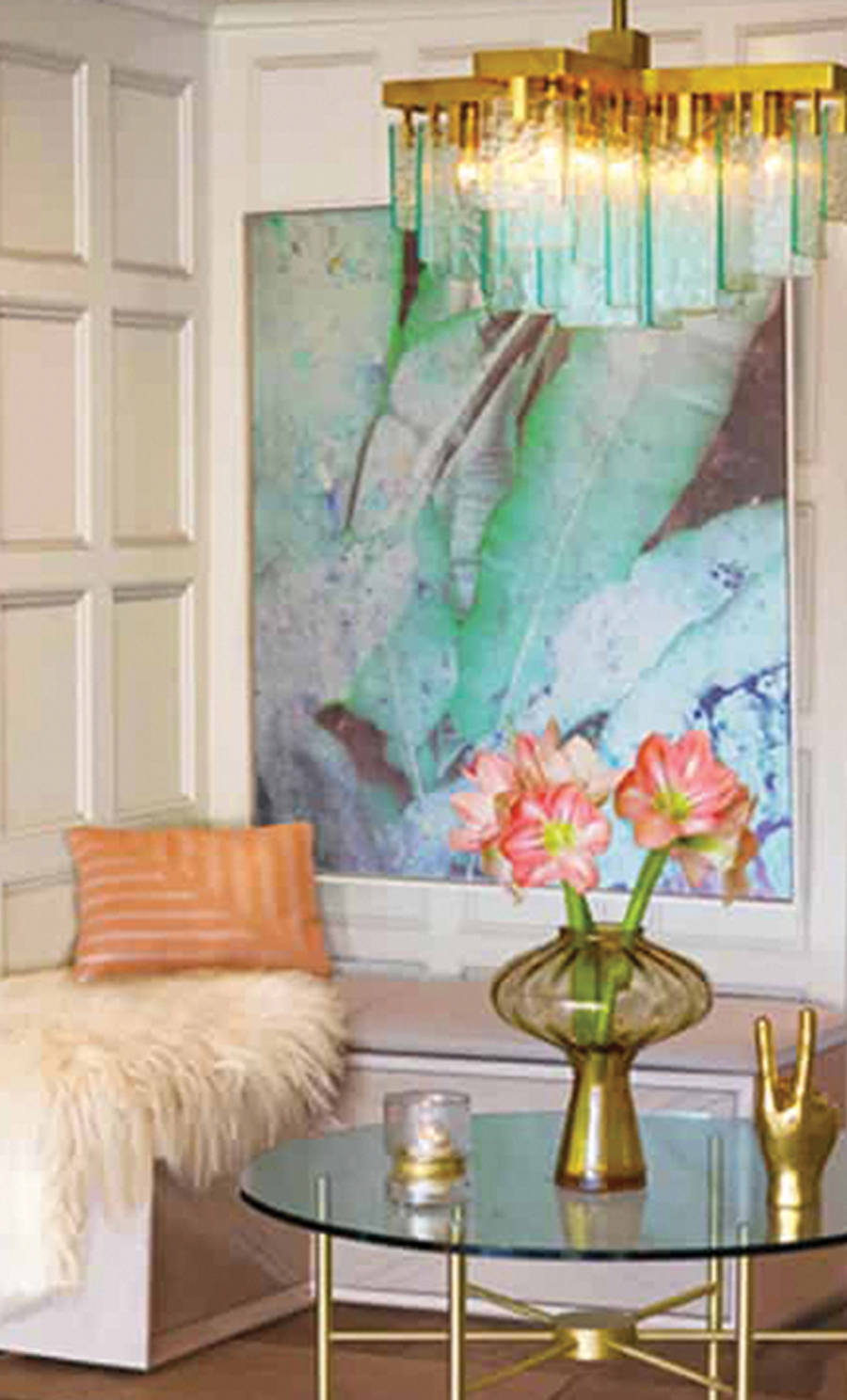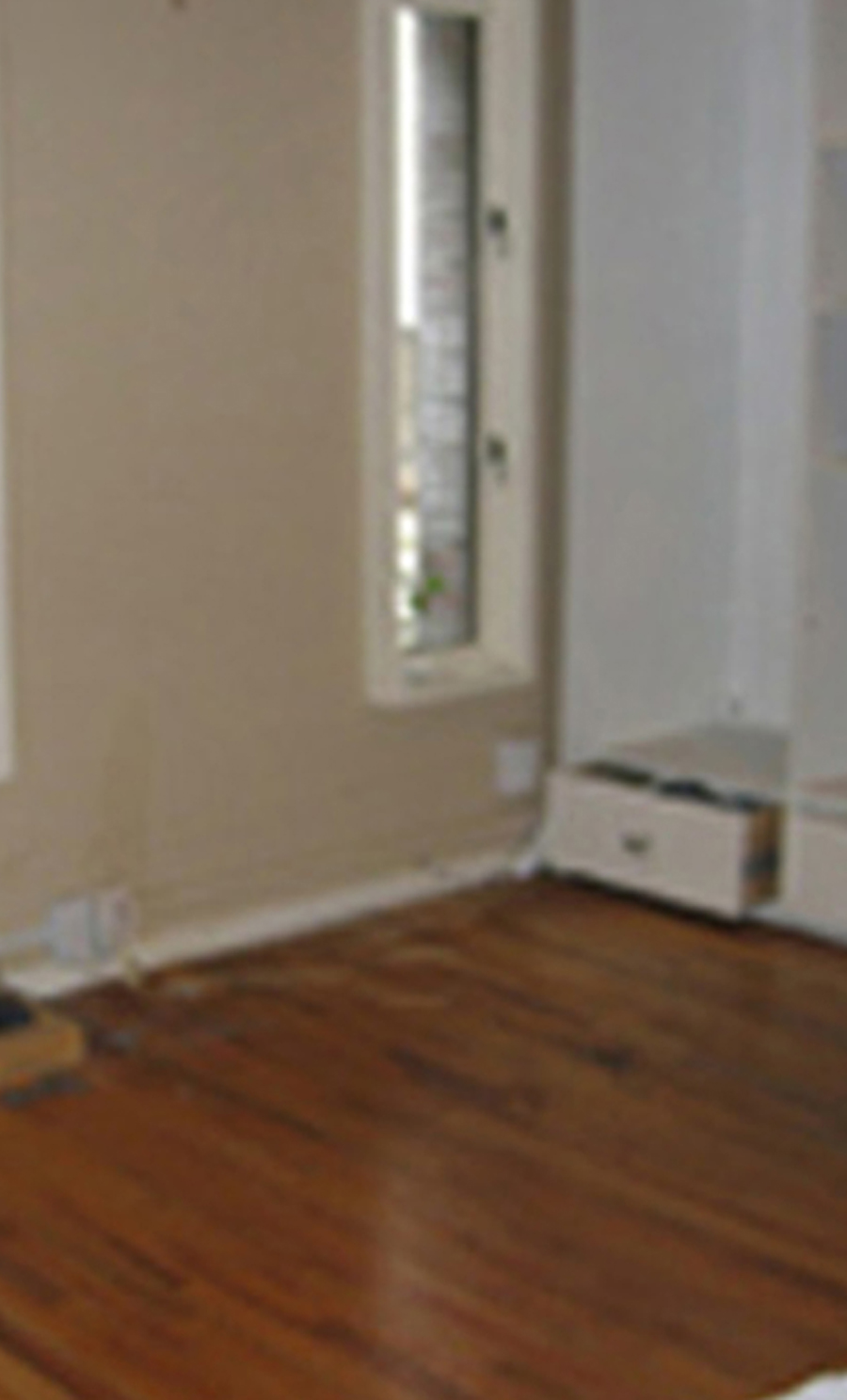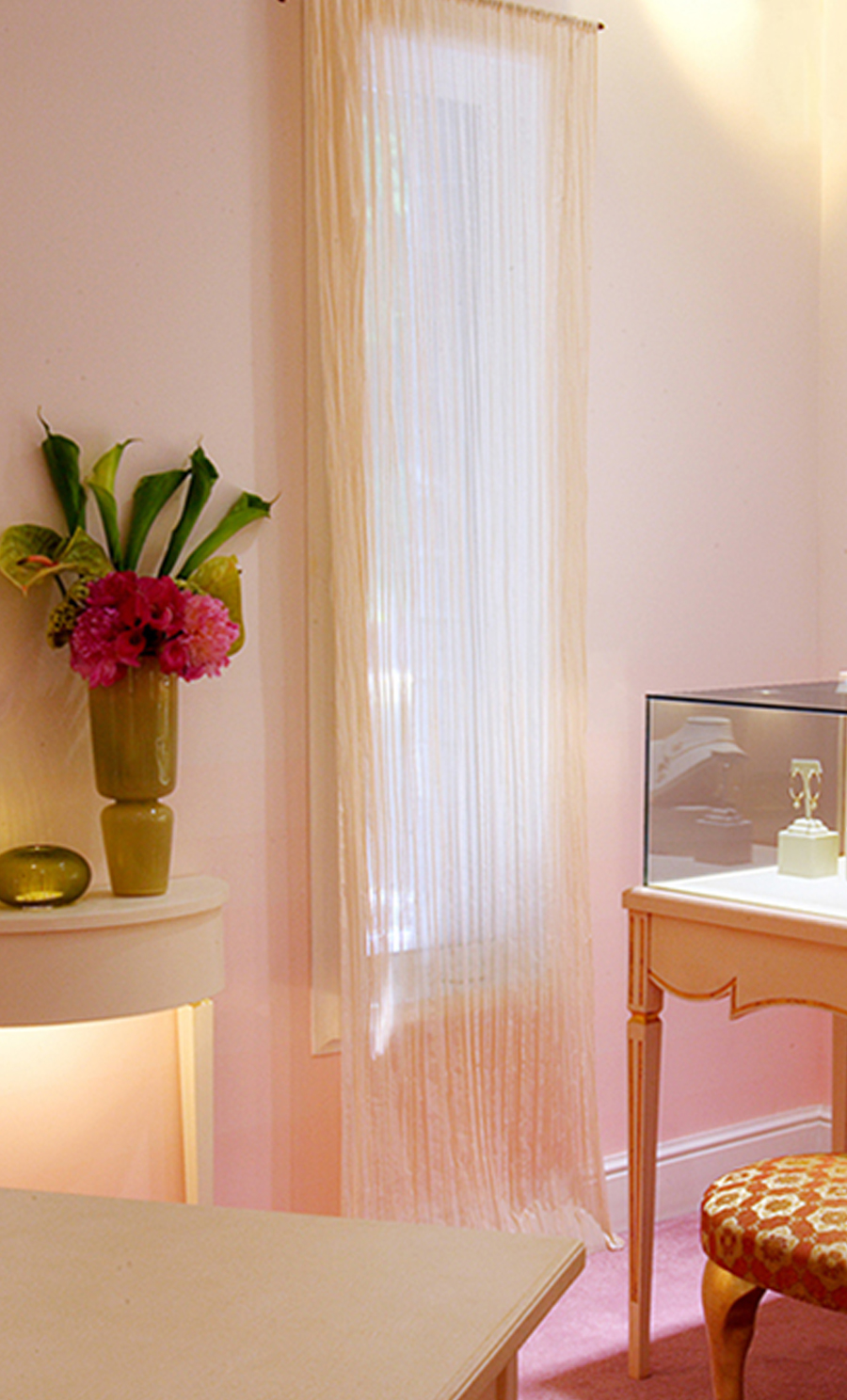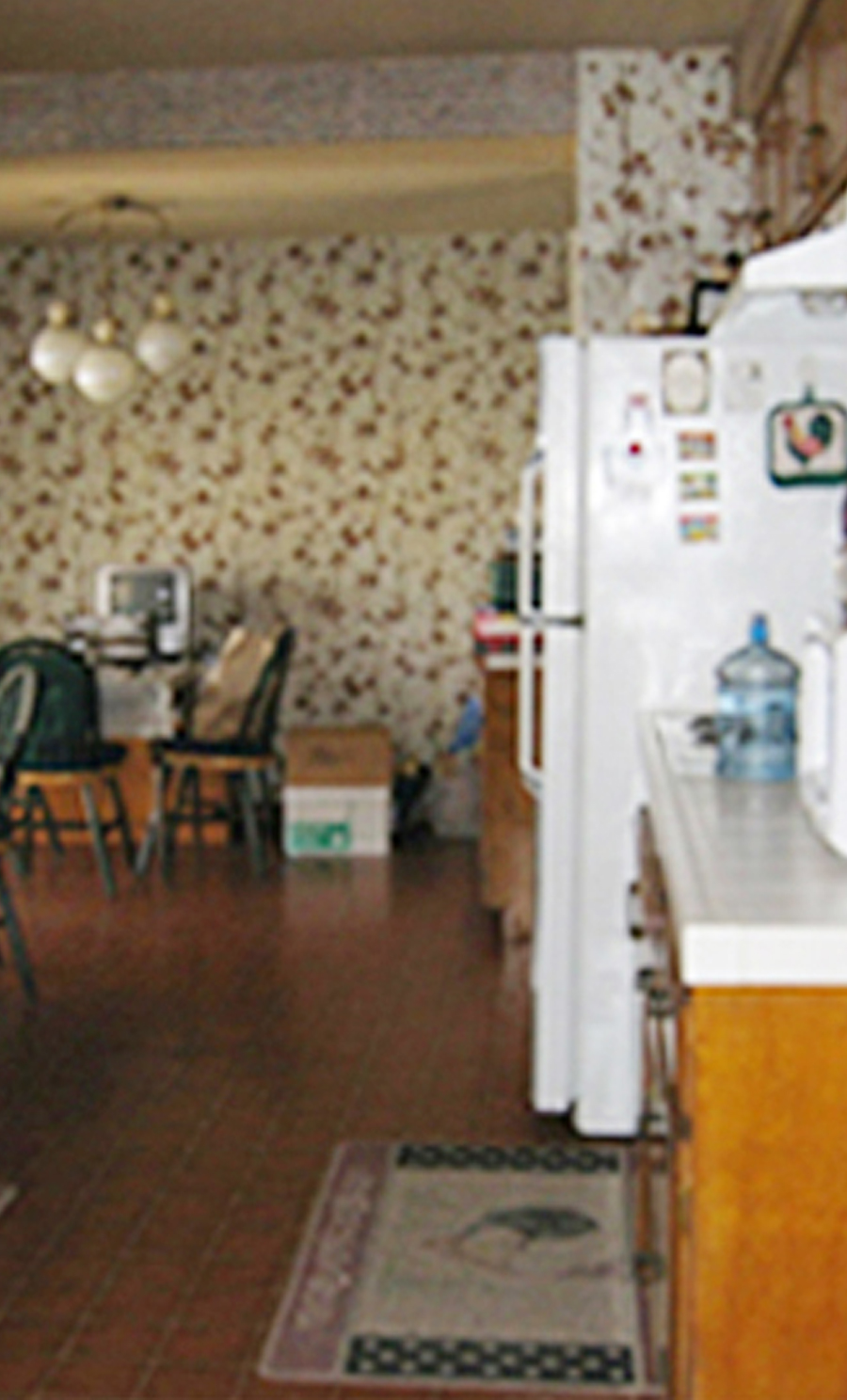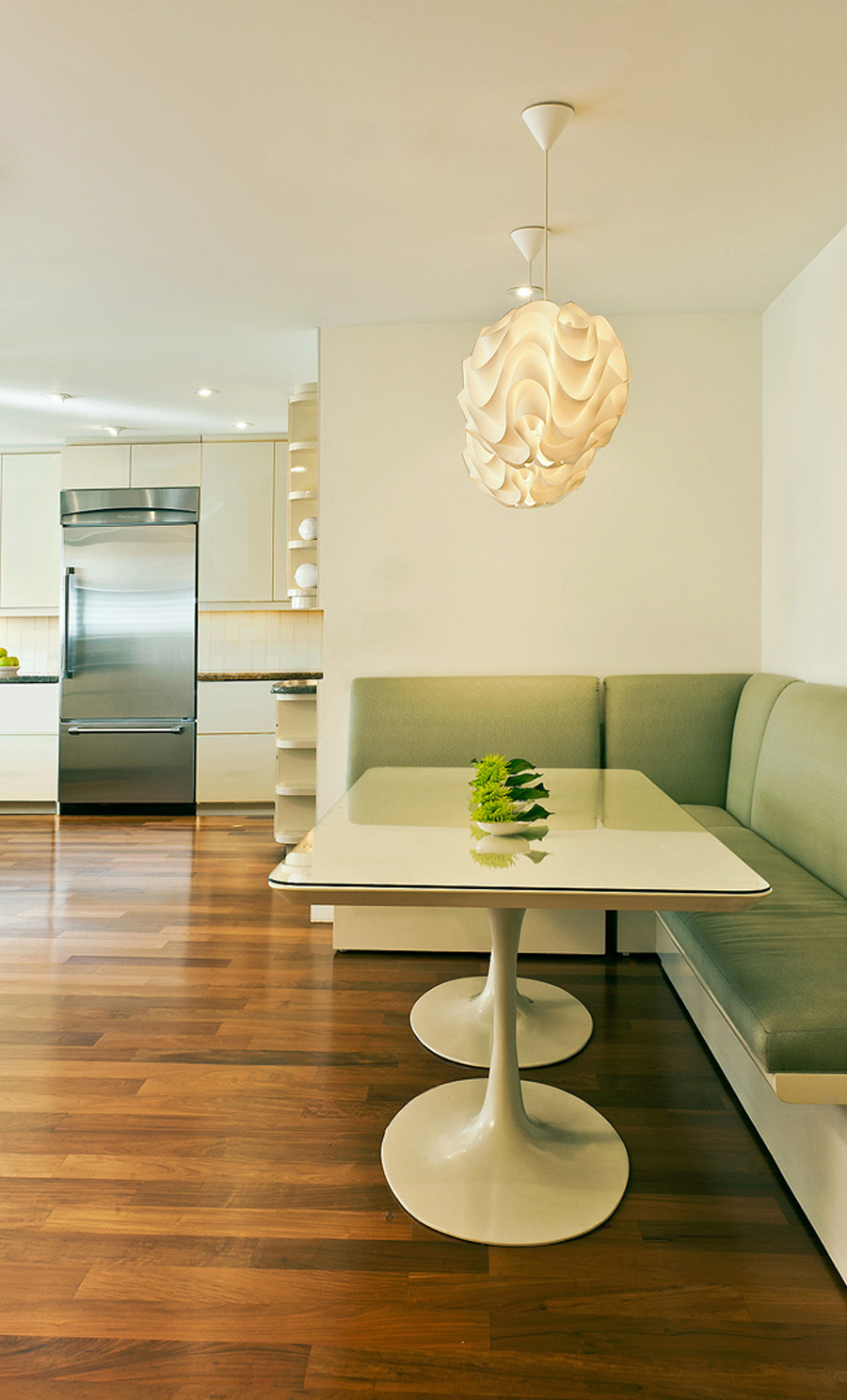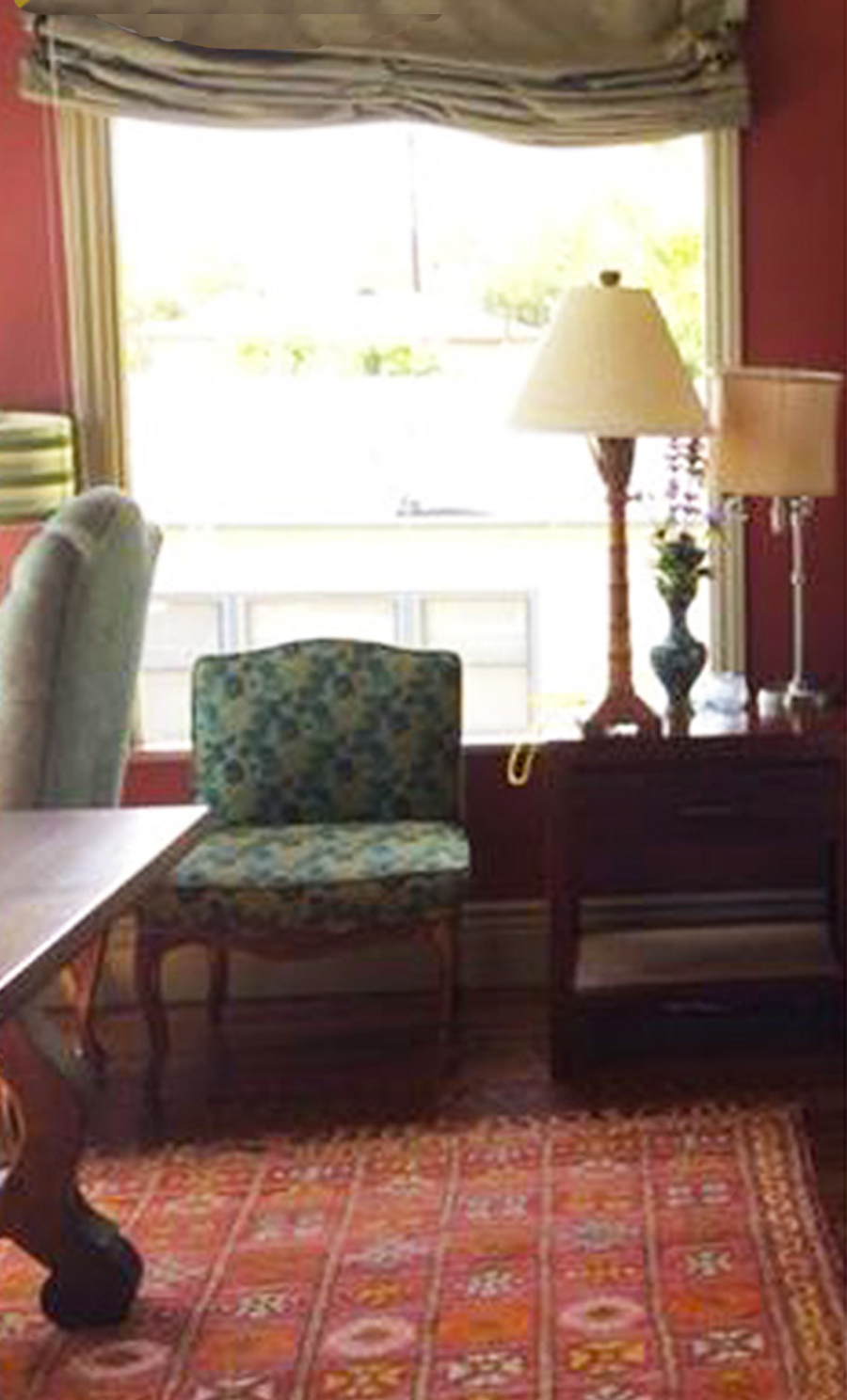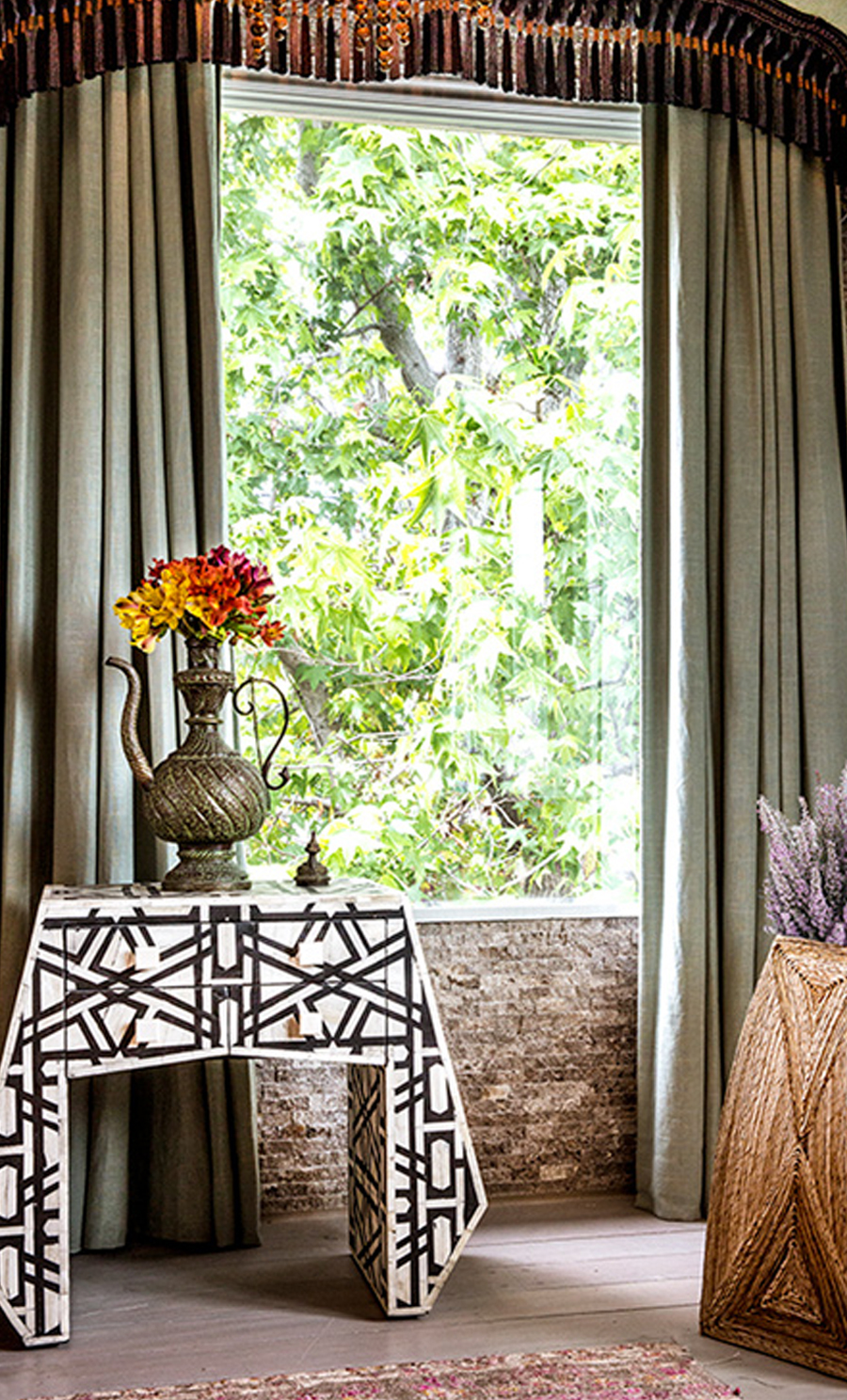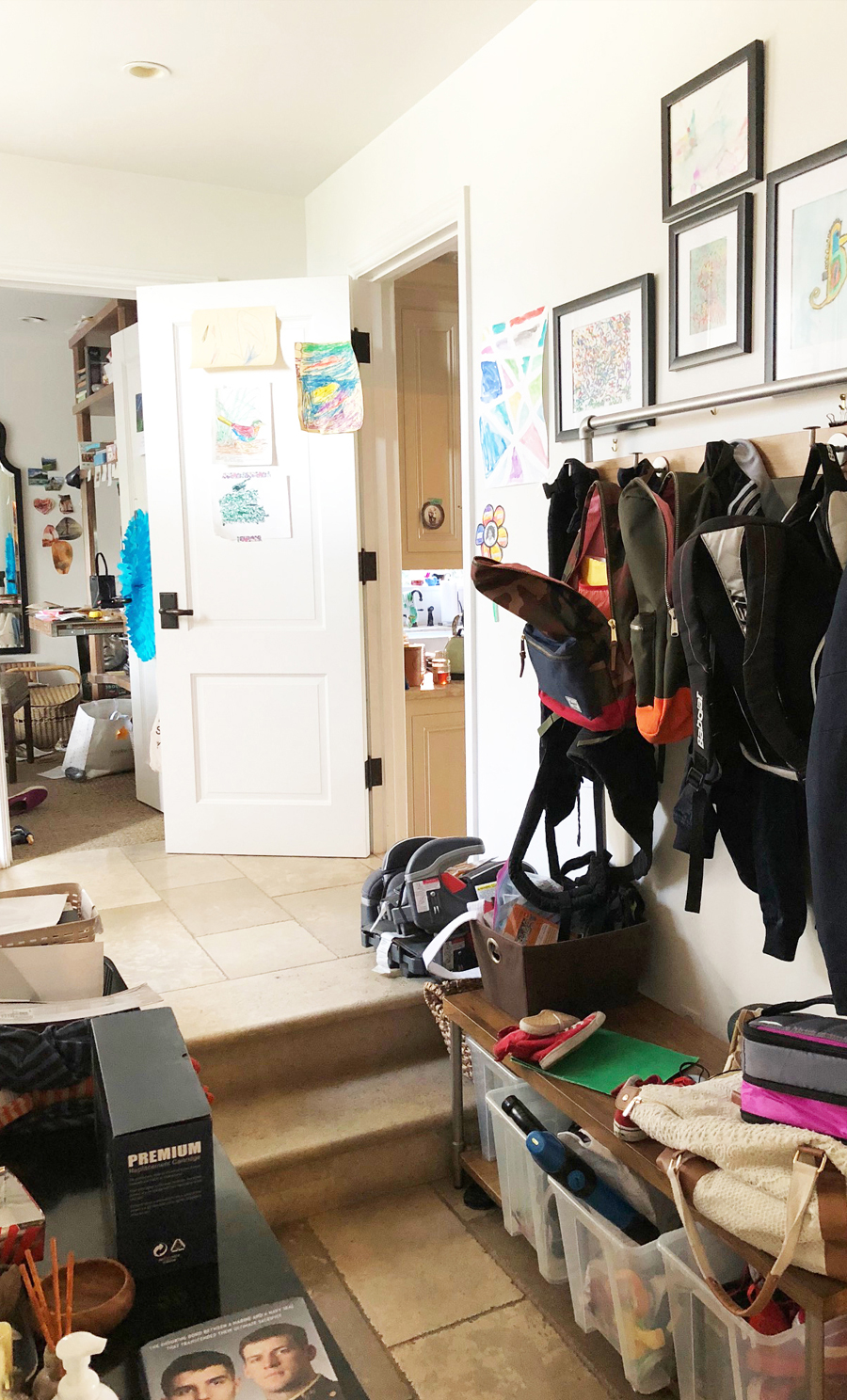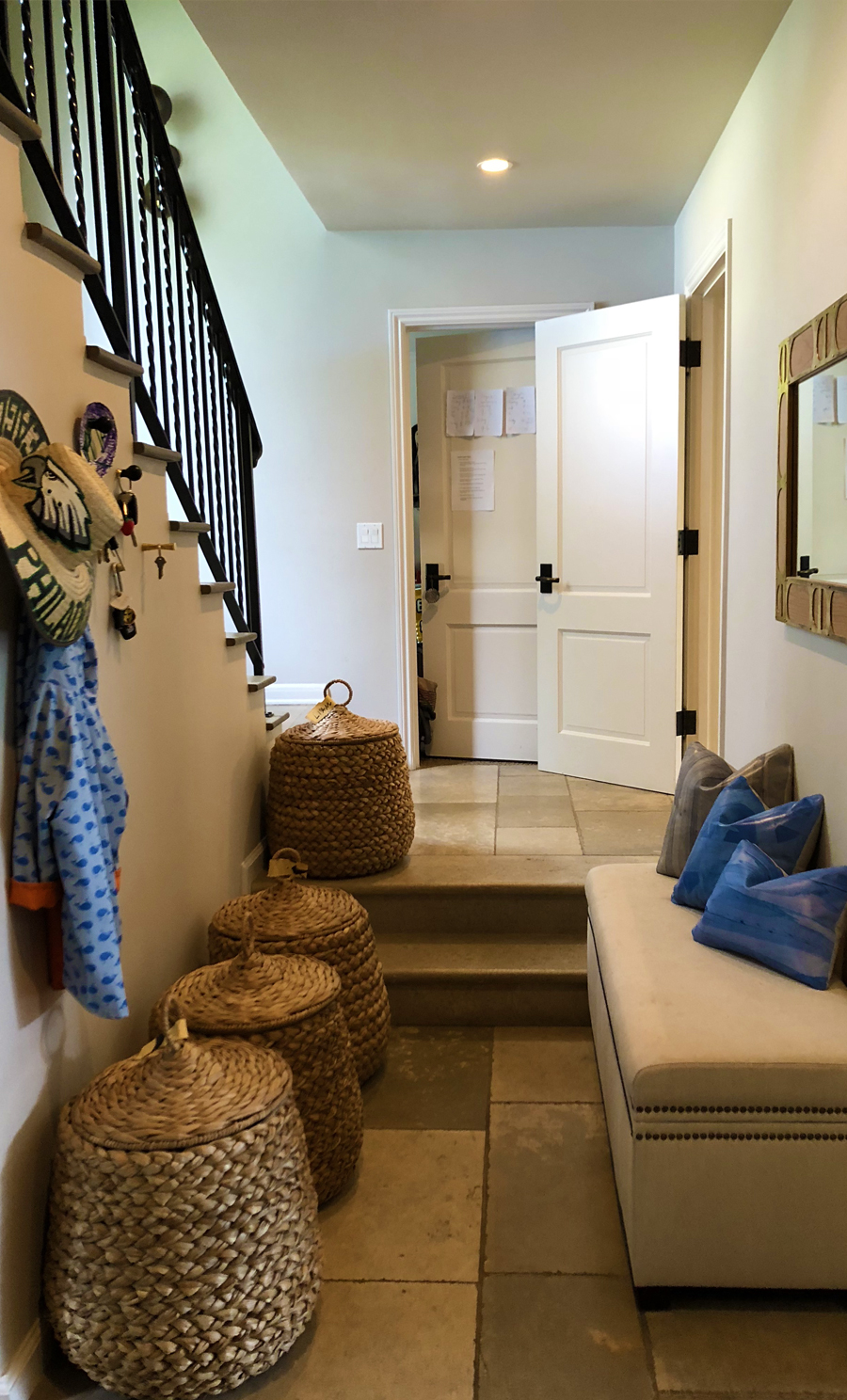 PHOTO 1 –
ISSUES –
Visual clutter from mis-placed decor causes self doubt, confusion and lack of creative inspriation. The way it was set up it, forced the eye into the corner which in feng shui creates a knife corner energetically.
The mirror bounced light nicely but made the energy go counter clockwise which doesn't feel good in the space.
 RESULT –
The new design pulled got the energy to move clockwise and the eye went to the whole area at once which felt more inspiring, calming and comforting. 
 PHOTO 2
ISSUE – 
Before I began the design for Erica Courtney's Beverly Hill's boutique, I needed to shift the stagnant energy caused by the poor placement of  windows.
REMEDY –
Get the room to feel more expansive, by creating an ombre up the wall from deep coral at the base of the wall, then incrementally shifting to a pale blush at the horizon line.
RESULT – 
WWD magazine described the space as a "soft, ethereal quality." 
PHOTO 3
ISSUE –
My client had suffered a trauma.
REMEDY –
Using feng shui with interior psychology I…
-Cleared physical and emotional clutter that was exacorbating her emotional state. 
-Shifted floorplan to increase sunlight, create invitation and resolved a missing relationship area of her bagua.
RESULT – 
She became more empowered and has been in a relationship since that remodel ten years ago.
PHOTO 4
ISSUE –
A complex interior design remodel, the red tones were not healthy for sleep or client's personally when we applied shamanic astrology.
I took two heavy beams out (an engineering puzzle!), which were very bad feng shui for health and sleep.
RESULT – 
The end result is a chi-ful, "other worldly" like feel to comfort the sleeper and inspired them to dream.
PHOTO 5
ISSUE –
Organization was a key component of my feng shui strategy.
REMEDY –
Parents each got drawers (not shown) and each boy (5 boys!)  got their own basket. Keys and hats got hung on the wall, made with a cool eclectic gallery look of knobs and hooks. The storage bench took care of shoes and the whole environment became more inviting as you enter.
RESULT –
The feedback at the end of the project was that the boys were putting thier things away and having fun doing it.
Be Inspired | subscribe to our mailing list…we're all about fun!