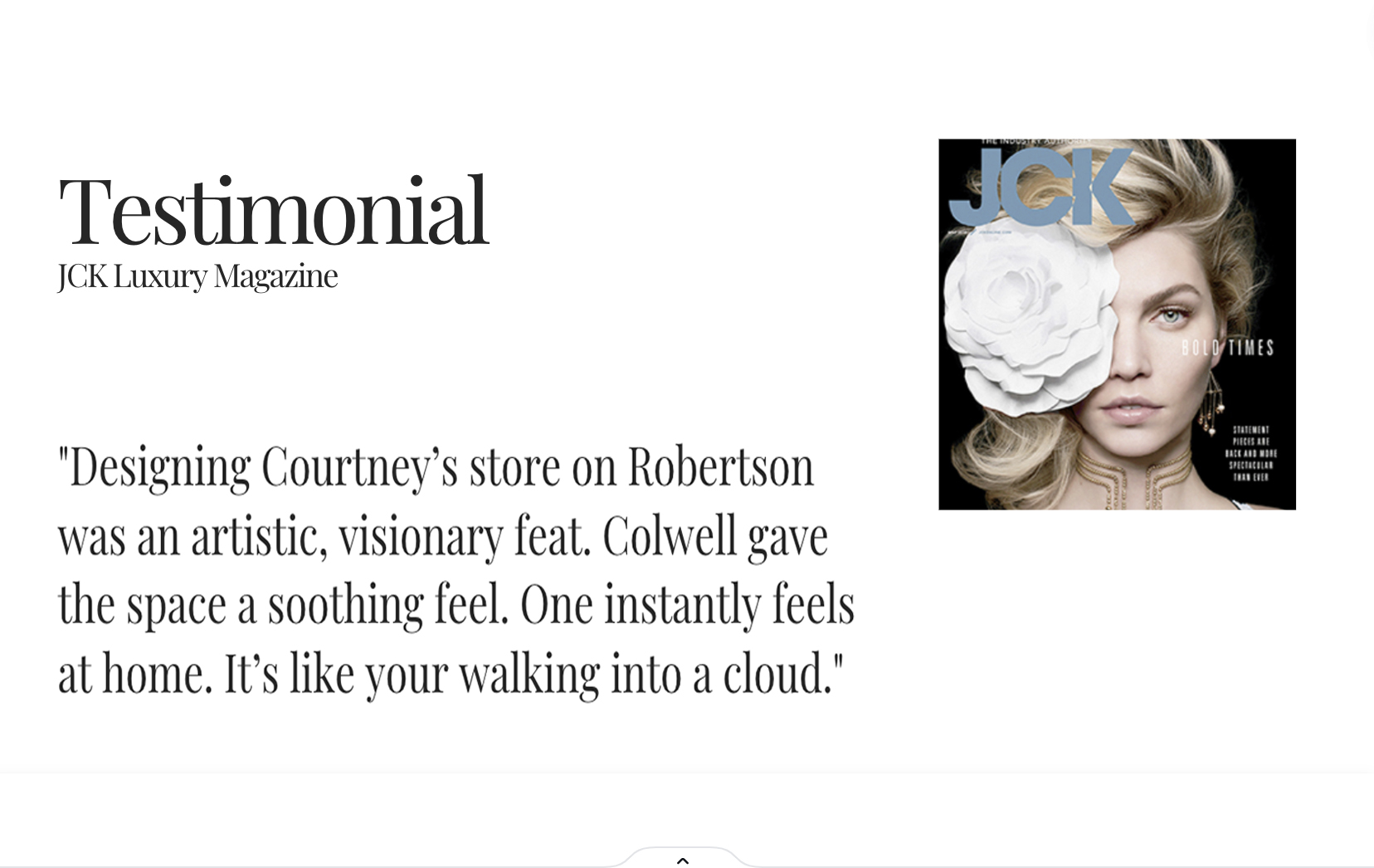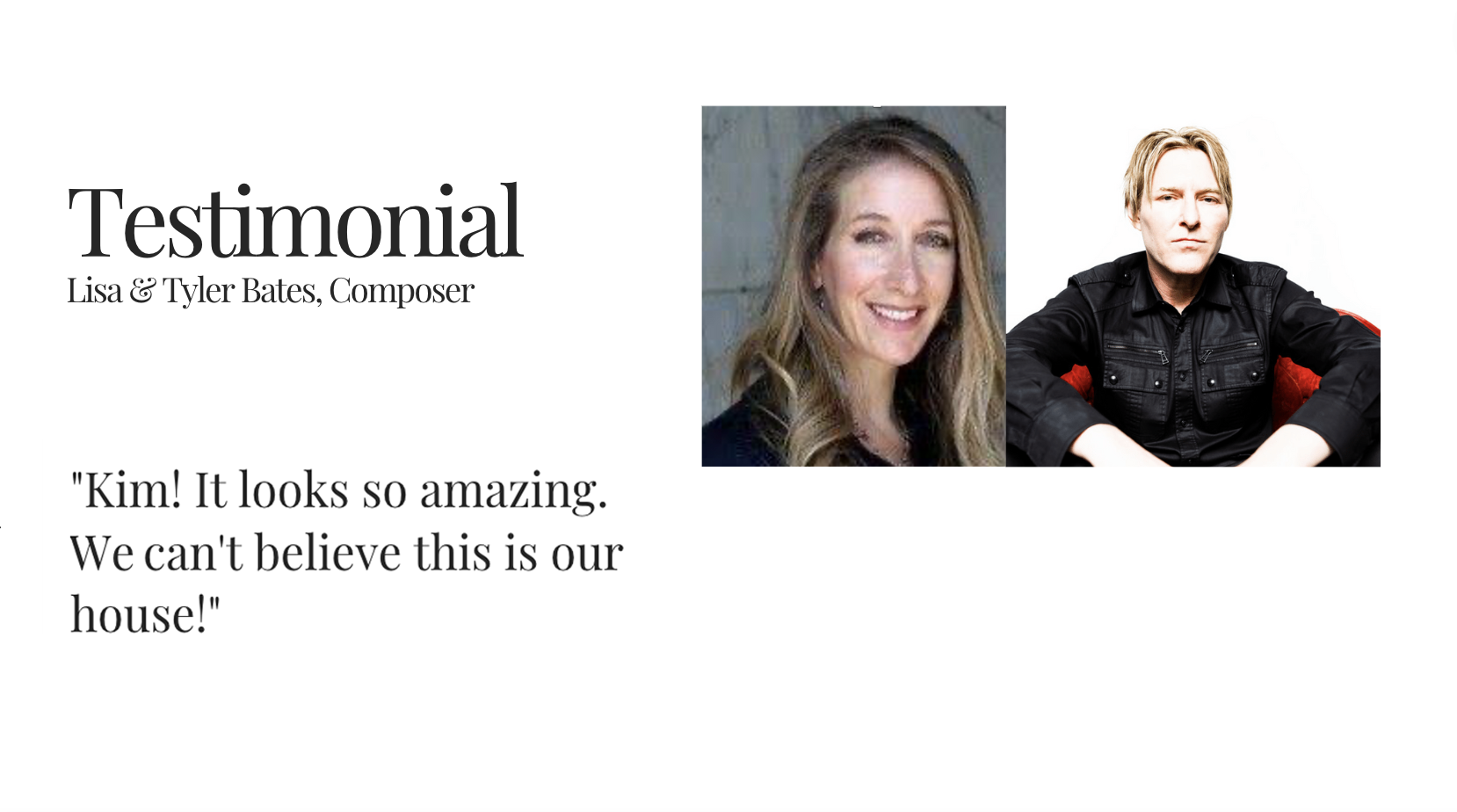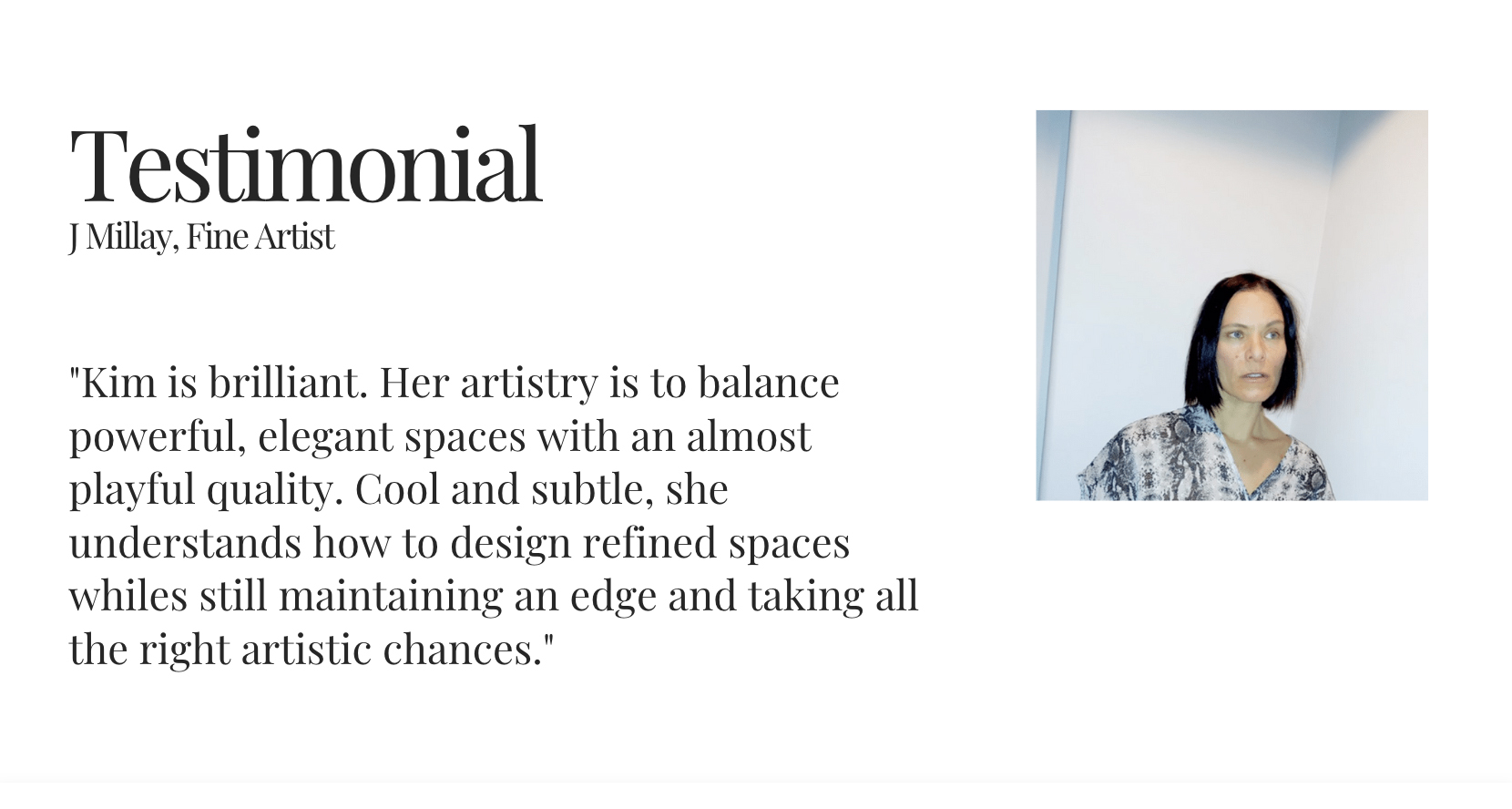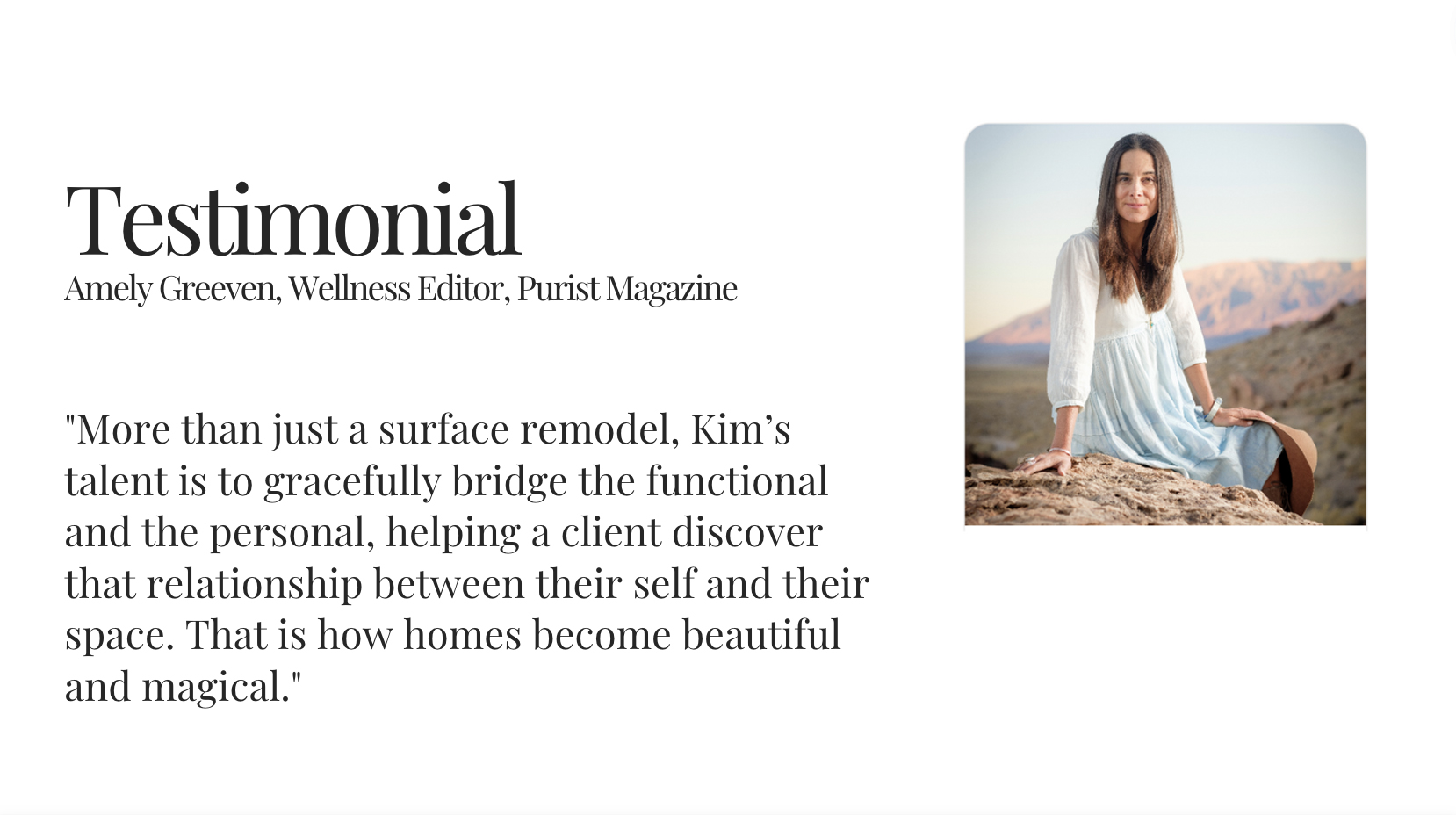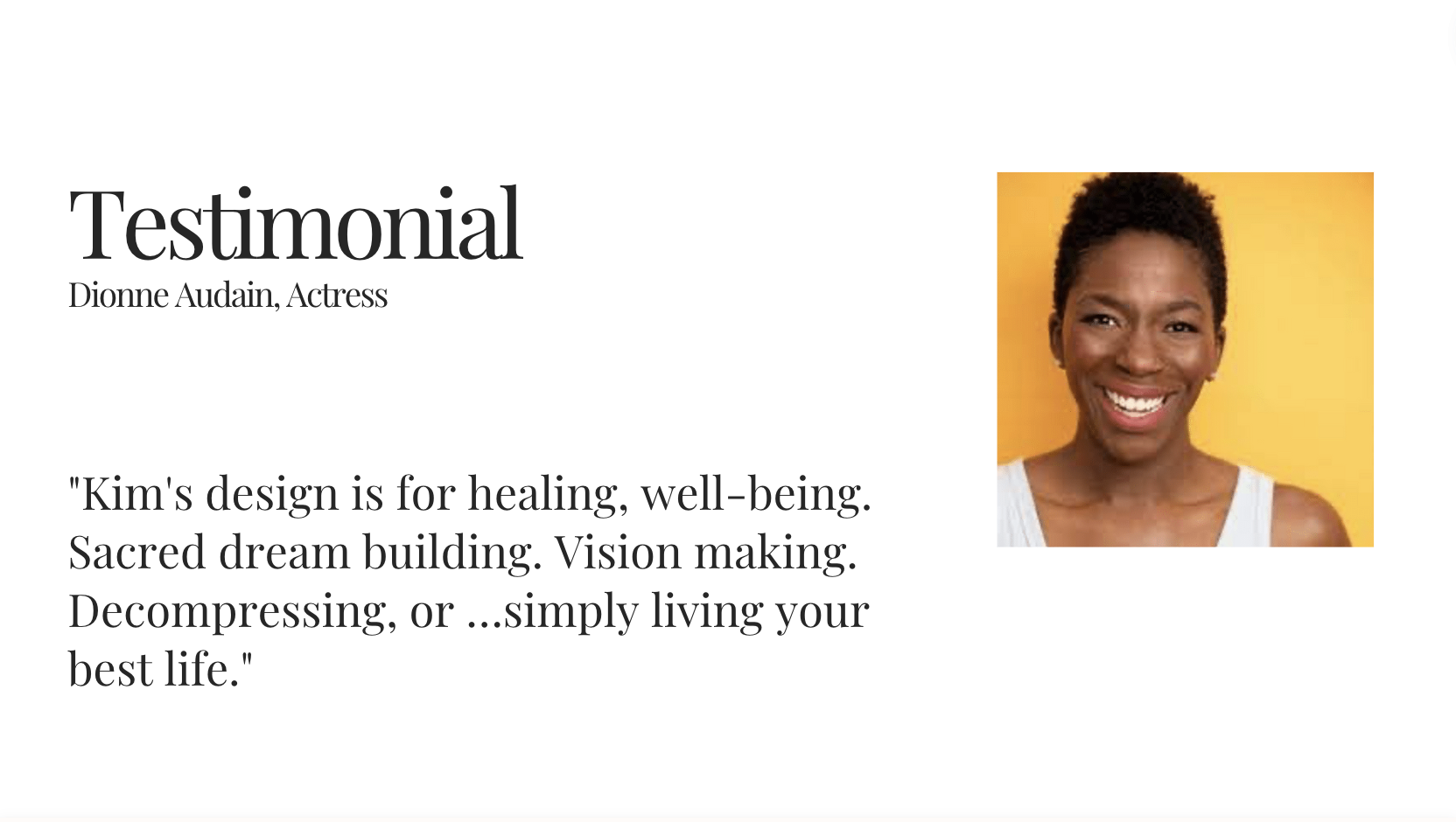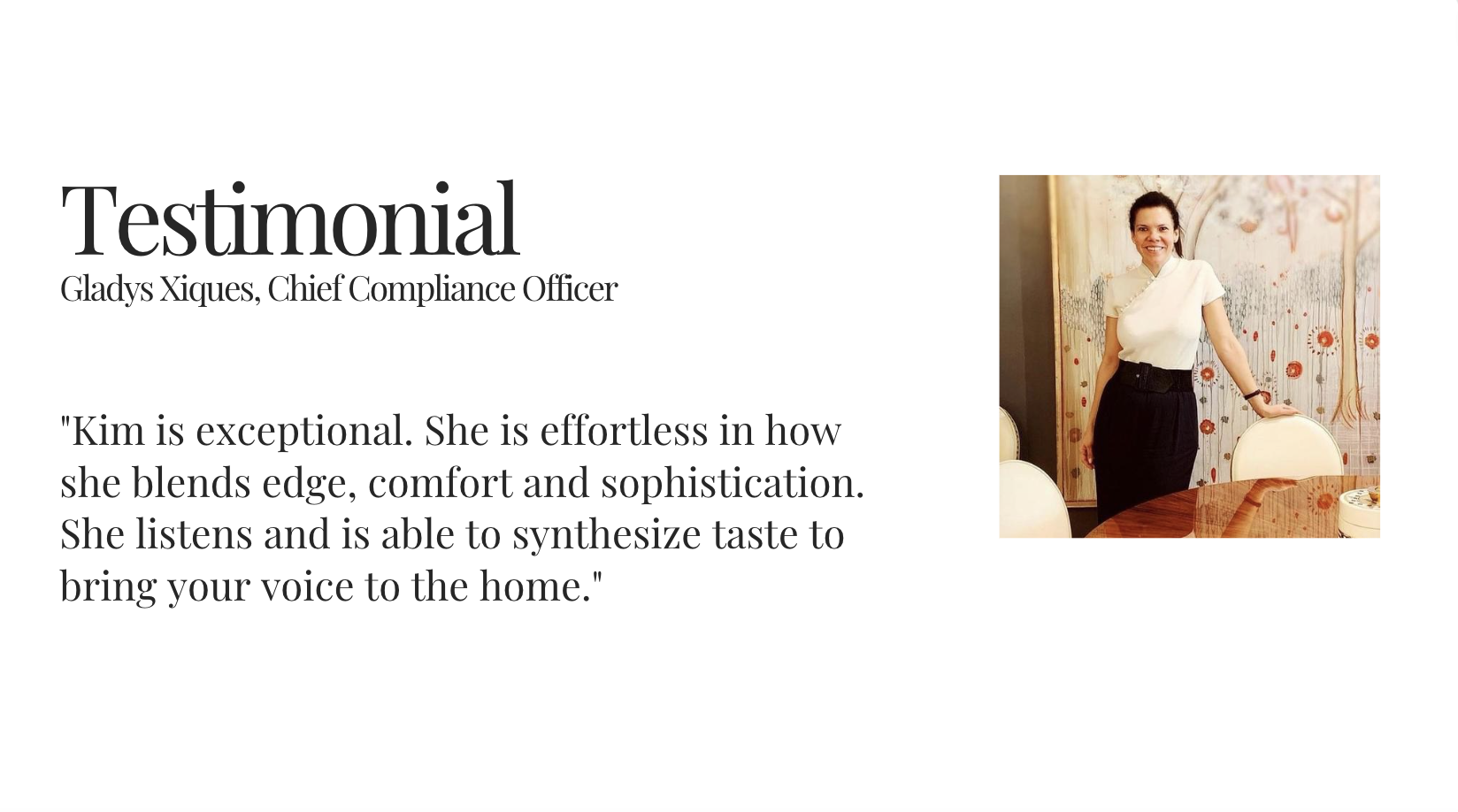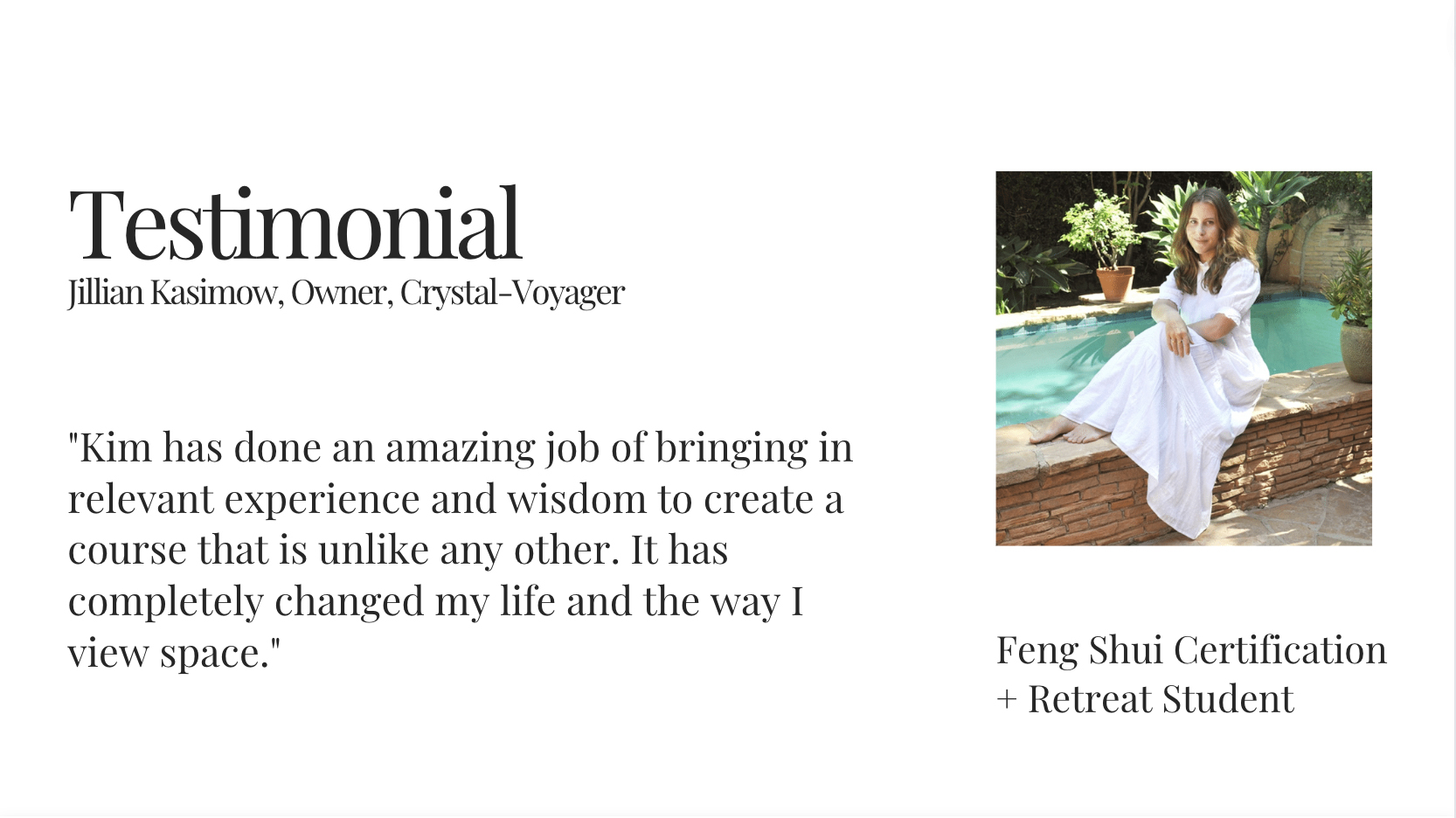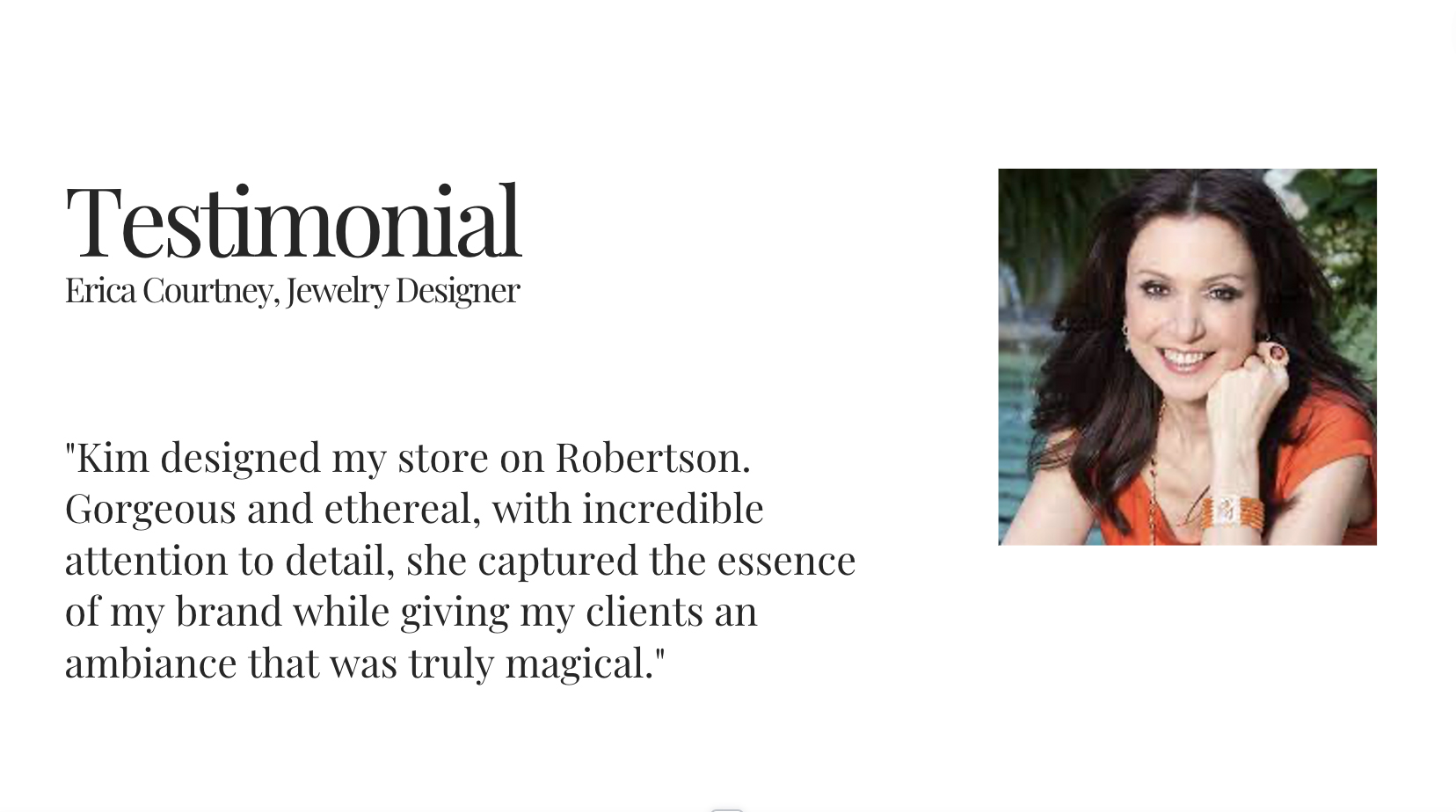 We have worked with Kim Colwell on several projects over the years and we are always impressed by her innovative and idiosyncratic approach to design. Kim is really great at striking a balance between her client's needs and realizing projects that use unconventional customizations. Working with Kim is really fun as she really sees the potential in utilizing her background in Feng Shui and an adventurous sense of color for her exquisite spaces.
Kim is exceptional. She is effortless in how she blends your view of how a room should feel and look with edge, comfort and sophistication. She listens and hears differing tastes from couples and is able to synthesize taste that is harmonious to both persons. Kim also inspires you to go beyond the traditional and brings your voice to the overall style of a room and home.
Working with Kim was transformative.
She not only honed in on what my aesthetic likes were, but really
tapped into what I responded to on a visceral and emotional level.
The decorative items and pieces not only looked beautiful in my home, but more importantly inspired me and brought me joy.
In addition to making my home look chic and hip, Kim's comprehensive knowledge of Feng Shui also ensured that every piece in my new place was positioned in the right spot and also that that before we bought anything we were aware of the energy that the object would bring to my space. Working with Kim and her approach to design was a fun, creative and extremely rewarding process.

My place is fabulous! Every time I walk into my house I feel at peace and thankful for all her incredible hard work, creativity and impeccable taste.
Kim designed my store on Robertson blvd. Gorgeous and ethereal, with incredible attention to detail, she captured the essence of my brand while giving my clients an ambiance that was truly magical. I am currently working with her on my house and am just as happy and excited for the results.
Kim is brilliant. Her artistry is to balance powerful, elegant spaces with an almost playful quality. Cool and subtle, she understands how to design refined spaces whiles still maintaining an edge and taking all the right artistic chances.
I can't tell you how THRILLED I am about the design you created. It is better than I imagined. It is truly beautiful! I can't wait to get in there every day to just be in such a gorgeous environment! You truly captured the essence of what I was envisioning. I hope we get the chance to work together again!
Thank you for transforming my house into a home. Your ideas have been phenomenal. I love being here now.
Kim Colwell is your best advocate. She follows your vision and enhances it with her experience and impeccable taste. She will create your optimum design project down to the last detail, respecting your budget. In addition to creating your design space; she will professionally and respectfully interact on your behalf with contractors; this allows your project to come in fruition with good open communication.
Kim! It looks so amazing. We can't believe this is our house!
I can't even tell you how blown away I was by Kim's vision. She is so good at what she does! She worked with pieces I had and moved them so they made more sense and the pieces she added I loved. She listens to you and almost channels your vision, but sees things you would not have thought of. She is a great talent and has great ideas and she is a delight to work with. I always recommend her to anyone that is looking for a interior designer with a little something extra!
I undertook a top to bottom remodel and hired Kim. She is
incredibly personable and she really took the time to get me and find a design that inspired me.
Although her experience seems to be more in the area of contemporary design she was more than willing to go exotic, Moroccan, as well as industrial chic.
She pulled off an amazing fusion of styles that completely captured my aesthetic. My house is a gem, my friends all rave about it, and I'm planning to build a guest house on the property. Without a doubt Kim will be designing that as well.
Kim and I have successfully worked on several projects. I believe this reflects her integrity and personal ability. She knows her stuff, always has lots of fresh ideas and really gets the feng shui flowing. She goes the extra distance to do a complete and thorough job. It's been a while since I had my home refurbished with Kim and I still love all we did. More recently we have been working with my new design studio. I feel fortunate to know Kim all these years.
More than just a surface remodel, what Kim does is trigger awareness of something that before you didn't know how to get to – awareness of your space. Then awareness is backed with functional, doable, 'get started' plans – like a doctor saying, start by eating more vegetables, tomorrow, and then get more complex from there! Kim's talent is to gracefully bridge the functional and the personal, helping a client discover that relationship between their self and their space. That is how homes become beautiful and magical.
Kim is a heartfelt, creative, intuitive design artist. She brings more beauty, alignment and peace to peoples lives through aligning people's spirits through their physical surroundings.
Kim's design is for healing, well-being. Sacred dream building. Vision making. Decompressing, or …simply living your best life. 
Our living room is AMAZING. Everybody says our place looks like a tv show gave it a makeover – so that makes me very happy!  Kim is really so gifted. She gives personalized attention, is a great listener, a perfectionalist yet flexible, and has a great sense of style.
I was astonished at how different the room felt. Thanks so much. Your generous gift far exceeded my expectations.
You are truly joy with amazing skills, and a wonderful professional to work with. Working with you has been nothing but blessing. My home is so powderful and has loving energy. Not to mention, it could not get done without you! Keep sending you lots of appreciation.
Kim's approach to our space revitalization was a truly wonderful process of discovery. She came up with smart solutions that would generate better harmony in our relationship. She really takes the time to get into one's psyche, targeting certain objects from the past that can inhibit one from moving forward to achieve feeling more grounded, focused and above all, inspired. We are grateful to her.
You have a wonderful combination of design, understanding of energy in the home and how that all impacts a person, home and our family. I think that you came up with beautiful plans for every aspect of our home today. It is clear to me that it will be what we wanted, and more!
Every expectation was exceeded.
She took into consideration stuff like modern aesthetic principles and my budget, but that's where a comparison with other designers ends.
Kim provides a service that nobody else can touch, due to her Feng shui-based and Shamanic knowledge, that's been passed down through the generations.
Kim wanted to know about my aims in my inner life and historic expression, as  much as my dreams for the future, and present psychological state.
The result is a cross between home design consultancy and transformational healing.
My home is in Manhattan, an oasis in this cool, urban city. I reached out to Kim to refresh my space and solidify a feeling of comfort.
Kim's advice was way beyond these surface values – it was medicine. Balance to support these days, and that's what I got.
Kim gave me custom, tailored, in-depth and rigorously-detailed advice, detailing exactly how she came to her prescription. It's a prescription based on the inner and outer factors of our lives, equal to the prescription that a naturopath or acupuncturist or herbalist would make.
It takes into account design, for sure, but I gained so much in terms of inner comfort and a sense of peace and hope for the future.
Thank you for sharing your gifts with the world, Kim! You are a unique force for good, and I'm so delighted to receive your wisdom at this time in my life's journey.
Working with Kim was incredible! She helped me convert a blank wall into a space where I feel comfortable and confident on Zoom. She had so many great ideas that I hadn't thought of and guided me to create a look based on my personal style, brand aesthetic and mission. It was simple and inexpensive, yet made a huge difference! Not only is Kim a super talented designer, she was kind, patient and supportive throughout the entire process. Thank you for your guidance and expertise, Kim!
My wife and I were blown away by Kim's work: how quickly she processed the info from her onsite interview with us and how effectively she applied that info to suggestions….I've always been interested in the cause and effect stories detailing Feng Shui.  And with Kim, we experienced them firsthand.  The wealth area in our house is in our office.  Kim took one look and instantly saw areas of clutter that we weren't able to overcome with the existing furniture and space limitations.  She suggested my wife and I swap desks and get rid of the open (cluttered) bookshelf which we donated to American vets.  In its place, we purchased a second lateral file cabinet and gradually cleared all the junk on top of our desks.  And presto, all the clutter was gone.  My wife was much happier with a smaller desk, and I was happier with a larger one which allowed me to hide the waste basket underneath and with easy access.  It was brilliant.  The change in the feeling just walking in the room was magical.  
The new openness to an unblocked sliding glass door created a pocket of fresh air to breathe and an energy for focus and creativity that wasn't there before.  As they say in Feng Shui jargon, the chi was free.  Then less than a week later, I cemented a business alliance that was in progress for over 10 years.  And the deals are rolling in.  Coincidence?  I think not. The change in focus in both my wife and myself is palpable and continually improving for us both….In hindsight, one could say, obviously it looks much better, why didn't we do that before.  The only answer I can give is that I thought we were doing a good job but it turns out we needed Kim for fine tuning.
Thank you again Kim for a great solution to that problem.  You are incredible!

Kim has worked on three of my spaces. Her feng shui and space planning skills are exceptional. Her work has changed the quality of my life and helped my business grow. Her sense of style and creativity are inspiring.
I didn't want to repaint my walls or even move much furniture. The changes were subtle. The house almost immediately felt better to me, also a number of people who had no idea that I had done feng shui commented that the house just felt more inviting. There has been a noticeable bump in my business. I decided to work with Kim and have her design a bed. The bed made the room (I love that bed). Simply put, I can't recommend Kim enough.
Kim has helped me shift the energy in my life and two different homes. Her intuitive insight has helped me make changes in my life both great and small which I will be forever grateful
During the time of construction Kim made sure that all the color choices and room layouts were harmonious. Kim and her mother, (founder of the Shambhalla Institute where Kim teaches feng shui) are full of guidance and inspiration. They provide many ways to improve your life and your space. You will tap into emotions and creativity that can help you become the person you want to be.
I was amazed at the power of their feng shui. I tend to be a skeptic, but first having Kim come to my home and do a consultation and then taking her class has made a marked difference in the way the space feels, how I feel, and how my life has shifted. As a student I learned an array of tools. The class gives you the knowledge and the opportunity to better your life and others.
Kim's knowledge of feng shui is extensive. She has an intuitive way of working with people to help them make changes they weren't able to imagine before. I am also enjoying our class. I am learning so much.
"I feel like a whole other world has been opened to me." When asked what the most enjoyable part of the class was, "I really enjoyed the dowsing and practice in your friend's home. I loved your communication to her and how you explained your work to her." Also, "having the information printed in an easy format helped to collect thoughts. I love that I can go back through and re vist what I learned. It was such a wonderful experience…far more than I anticipated. I will be in touch about taking more classes."
The Feng Shui class was beyond what I was expecting. The depth of information from many different perspectives I believe makes this a unique, insightful and powerful course. Kim did an excellent job of meeting me where I am with my knowledge and learning style. I love the flexibility of the course and hands on approach.

Finding this Feng Shui course was kismet. I was struck by how authentic Kim's approach was and how each space she designed felt like it had been lovingly tailored to that client to solve their individual needs while being mindful of their personality and aesthetic. Talking to Kim sealed the deal! Her enthusiasm for Feng Shui was palpable and I knew instantly I wanted her to be my teacher.
Kim has done an amazing job of bringing in relevant experience and wisdom to create a course that is unlike any other. What I love most about Kim's approach is how she incorporates so many layers of nuance and sensitivity to create environments that are completely bespoke to the person she is working with. It would be easy to memorize the fundamental principles of Feng Shui and apply a one size fits all approach, but this course taught me to how to use the practice in a way that is profound.
Kim is one of the kindest and special people I have ever met. She is so passionate about what she is teaching and it is a joy to learn from someone who loves what they do. I am so appreciative of her patience and her willingness to customize the course to my learning style. I really cannot say enough good things! This course has completely changed my life and the way I view space and how it impacts the way we function and view the world. It is such a wonderful feeling to know I can positively affect people and the way they live with all the knowledge I now possess after studying with Kim.
I loved the personalization and the transparency of the class. The incorporating the body parts related to health and home was an additional bonus. The shamanic astrology was an unexpected surprise as well. The reference notebook shall be treasured. Overall I am very satisfied with the course and look forward to potential teachings from Melinda Joy (Kim's mother and founder of Shambhalla Institute).
I was amazed at the power of their feng shui. I tend to be a skeptic, but first having Kim come to my home and do a consultation and then taking her class has made a marked difference in the way the space feels, how I feel, and how my life has shifted. As a student I learned an array of tools. The class gives you the knowledge and the opportunity to better your life and others.
Kim is a wonderful instructor – I absolutely loved the balance between science, design and metaphysics…between cerebral and soulful. I appreciate the balance between things that can be flexible and elements that must be addressed.