FENG SHUI ALTER TIPS
Good feng shui begins with balance, intention and in our case, beauty and style. Each detail is carefully thought out, from understanding the 5 natural elements represented, to the design of the crystal grid. Each alter holds items that are special to you on a personal basis, whether it be to honor someone who has passed away, bring focus to a creative career goal or become a symbol for their spiritual path.
FENG SHUI TIPS FOR AN ALTER WITH INTENTION
Feng shui tips begin with having a specific focus in mind. The before photo below is from a project over ten years ago. It shows an area that has no specific intention behind it other than to catch your daily items as you walk in. We see all table top surfaces as an opportunity to become an alter. If your intention is to honor a loved one you can begin with a photograph of the person you are honoring. Setting up symbols surrounding that image that reveal how you feel about them or even just remind you of them is another great way to start. r
In this case our after photo shows an alter that is meaningful to my clients as it depicts someone very special that they wanted to honor. I placed the coral Moth Design lamp there to both guide the energy as you walk in from a feng shui stand point and add light to the special photograph above the table. The plants in the glass terrarium are a Qi (energy) activator and the candle is a ceremonious touch good for any alter. The metal jacks add a playful quality, the prayer posed hands are in the position of honor, and the crystal ball adds a mysteriously profound aspect.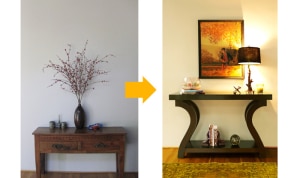 FENG SHUI TIPS – NATURAL ELEMENTS + PSYCHOLOGICAL METAPHOR
In feng shui we want to balance the natural elements. There are many ways to do this. In this case, I chose to represent each of the 5 natural elements of metal, wood, water, fire, and earth. I designed the table to represent the natural elements of metal because of the round arch like shape. It also represents wood as it is literally made of wood. Items can represent more than one element at the same time. The reflective glass and crystal ball represent water. The lamp, candle and firey colors in the art work represent fire. The mountain shape in the terrarium represents earth.
OUR CREATIVE COMMUNITY
Join our creative community – sign up for our mailing list. Stay in touch with us. We would love to hear from you and are always available to answer any questions. Please send us any great new finds that you want to share or let us know about your own fabulous work.
FOR MORE INSPIRATION
Follow us on instagram.
Save
Save