MODERN HOUSE DESIGNS
Modern house designs from Animalick Interior Design and represented by B.D. Barcelona. B.D. Barcelona's has a design meets art philosophy. With a background in architecture, there is an artisanal quality their projects. For me, their furniture collection is one of the best in the world. Each piece adds personality, elegance and charm to the modern house designs they are used in. When strong artistic pieces are present I am always draws in to know more about the people living the space. The cabinet design shown below does this and more. Artists Antoine and Manuel designed this cabinet for B.D. Barcelona. It was their first furniture design project.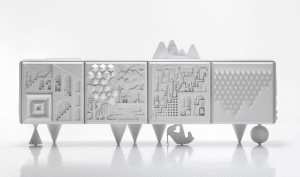 DESIGN CREDITS
Modern House Designs shown: Private House – Knokke (Belgium) Designer: Animalick Interior Design Photography: Marc Heldens + Verne Photography (Netherlands)
White Cabinet Design represented by B.D. Barcelona Design  Furniture Designers: Antoine & Manuel
JOIN OUR CREATIVE COMMUNITY
If you enjoy our posts we hope you will share them with your friends and invite them into our creative community by sending them a link to our blog.
Stay in touch through our mailing list.
MORE INSPIRATION
Follow us on instagram.  
WORK WITH US
Book session with Kim to gain a radically new and innovative perspective on your home or business. Kim offers full service interior design and a full roster of wellness design short guided consultations that will change the way you view space for life. 
Save