Interior Designer Los Angeles | Residential + Commercial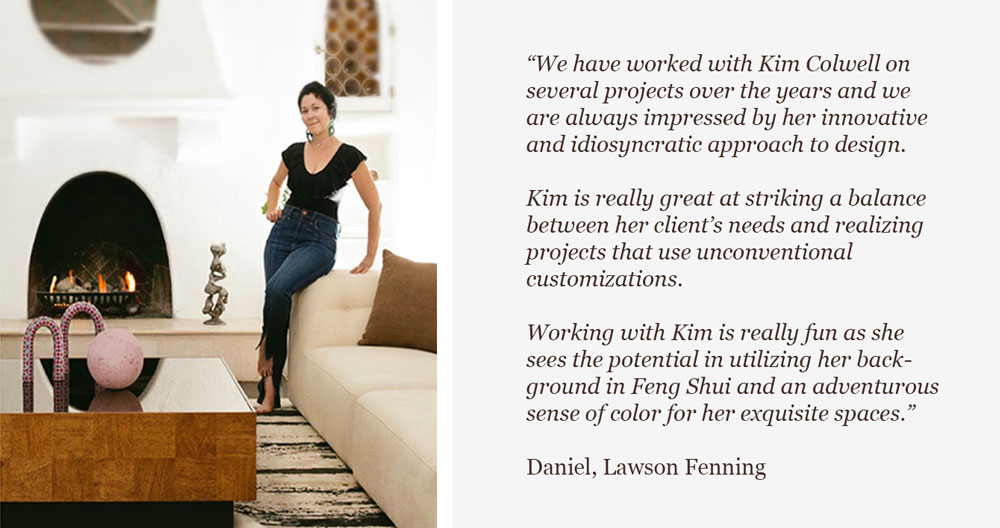 The project above was featured in Interior Design Magazine.
A Fresh Voice In Design
Have you ever walked into a home, store or office space that instantly lifted your mood, made you feel serene, or inspired you to want to stay longer?
Our approach to interior design is a little different. We fuse an artful style and extensive remodel expertise with a mindful, bespoke approach—our unique methodology for maximizing the inviting warmth that echos the feeling that you get when standing in nature, while infusing it with individuality, so it truly reflects who you are. There is a soulful quality in the homes, boutiques and offices we design that transcends the aesthetic.
An expert in wellness design, second-generation feng-shui master and Tisch-trained artist turned designer, who works across many decorative genres to impact every aspect of their emotional and even spiritual well-being. An intuitive process, Kim discovers each client's personal vision and sensibility to create a signature concept that supports their life style goals on a deeper level, from how they sleep to what may be triggering them to feel overwhelmed.
Taking on projects of varied scopes and sizes from full service, high-end remodels or new construction to small decorative refreshes. Kim promotes inviting floor plans, inspires happiness with thoughtfully curated décor and even works to harmonize couples by creating a style that speaks to each of their varying sensibilities.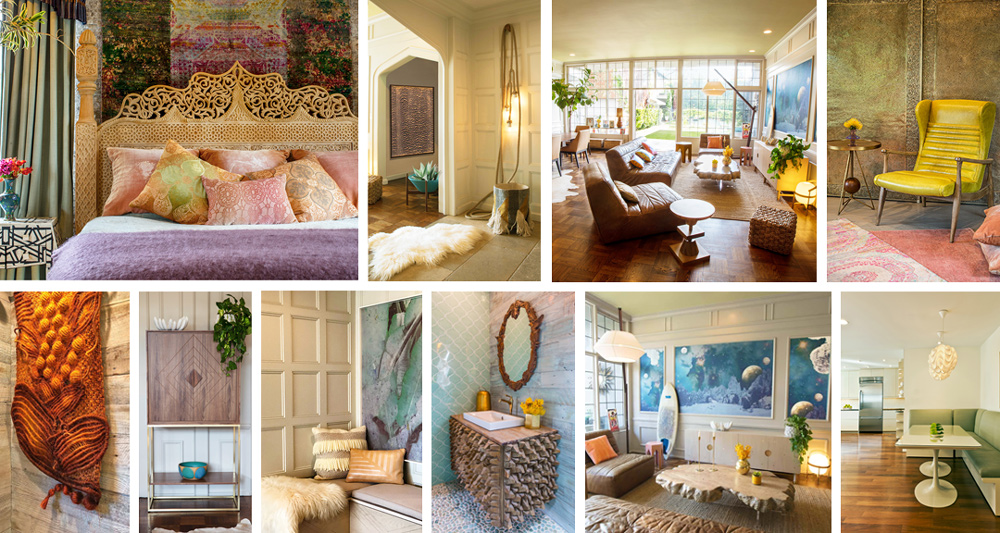 Residential Interior Designer Los Angeles
Interiors as Meaningful as they are Beautiful
The eclectic mix of styles in Kim's portfolio stems from her incredible ability to channel your personality in order to best express your personal style and vision and give your home a gorgeous signature look. No two people are exactly the same, so why should the design of a space look the same each time. When requested, we can add another layer of design strategies that uses design as a tool to transform more than just your environment and address personal and lifestyle goals. Whether we set up your space to stimulate creativity or promote greater calm and wellbeing, design a sublimely romantic bedroom, sustainable remodel or even create a healing retreat, the result is a beautifully stylized environment with a deep-seated feeling of warmth and balance. Unique Offerings…
We use color to elevate mood, calm nerves, inspire creativity and express your individuality.
We utilize feng shui principles to create a powerfully restorative ambiance.
Kim's background in art fosters a high level of imagination to creatively highlight each signature element.

Office Interior Designer Los Angeles
Optimize Your Office to Make Your Work More Inspired
Our bespoke interior office design philosophy is to use artful design to increase inspiration, motivation and productivity, so you can love the space you work in.  Our office spaces foster a natural, effortless interaction between co-workers or clients and uplifts energy and moods for better productivity. Who doesn't want to be more productive and inspired to come to work? More Perks…
We implement a welcoming floor plan that strategically optimizes the health and happiness of your staff and clientele.
We carefully curate décorative items to inspire creativity, better focus and motivation.
We use color thoughtfully to deepen brand awareness and create a healing environment for your patients.

Retail Interior Designer Los Angeles
Be More than Just Another Store – Create an Experiential Space
We create an experiential environment in your retail store: one that exudes an ambiance so special, that it draws your customers back again and again. As an interior consultant and designer our mission is to capture the essential distinguishing characteristics of your brand and make your store relevant and unforgettable. In short, we work to visually express your unique, creative and dynamic voice. Our design process integrates your aesthetic desires with your goals for your customers' experience of your brand. Our first bespoke interior retail space was a design for Erica Courtney's Store on Robertson Blvd in Beverly Hills. More Perks…
We create a high-concept design that showcases your values, story and personality to set your store apart.
We implement a welcoming floor plan that optimizes your sales by drawing your customers into every corner of your store.
SERVICES INCLUDE:
Signature Design Concept
Space Planning With Feng Shui
Personal Shopping
Interior Styling
Decoration Only, Remodels Or New Construction
Interior Architecture
Selections: Textiles, Materials & Furnishings
Custom Furniture, Upholstery & Drapery
Kitchen, Bath & Closet Remodels
Interior Renderings
Color Advisement
Complete Design Management
Personalized Client Care & Attention to Every Detail
Technical Drawings
WHERE WE WORK
Although we are a California Interior Design firm based in Los Angeles, Kim works throughout the US. Her completed projects out of state  include a new construction design in North Carolina, decorating homes in New Orleans and Montana as well as interior stylist or E-Design projects in many areas of the US. Take a peek at our before and after images or read case studies to learn more about our process. See what our clients have to say about the signature spaces we have created for them. Subscribe to newsletter for updates, resources and special invitations.
Fees are negotiated based on the specific scope and needs of the project. Kim works with any decor style, whether it be contemporary, traditional, farmhouse, bohemian, eclectic, modern and more. She can even fuse many styles together to customize your perfect, personalized look.
Need Virtual Design Or Have A Small Design Project?
Want to do a quick tweak to one area of your home, refresh just a few key pieces or get some creative ideas to bring your décor up a notch? Our
Home Refresh
service brings you the all benefits of our approach in small, targeted projects.