Design Reading |
 The Best Place to Start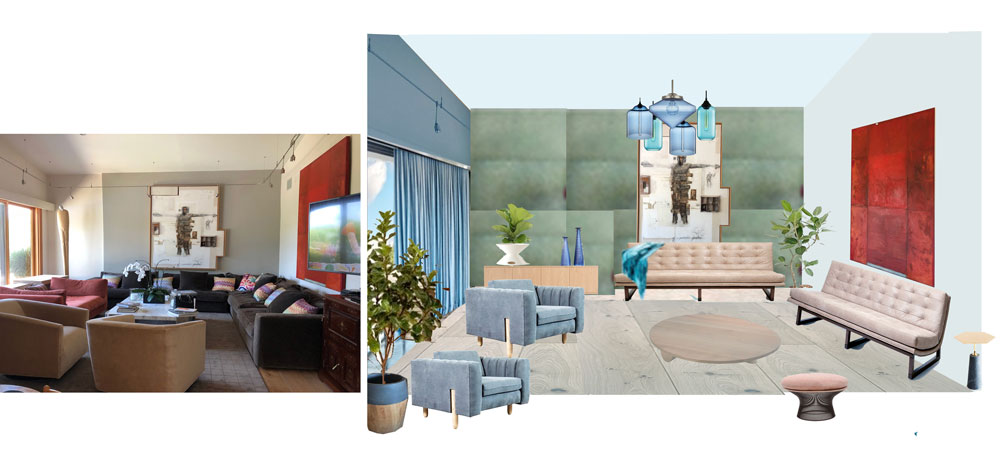 Upon request, we can show you how all the new suggestions will look with rough renderings. Our client requested us to push out their exterior wall and give the room a style refresh while showcasing their existing art collection.  
Design Reading | Therapy for Home, Office, Retail that Impacts Your Emotional Wellbeing 
This unique virtual consultation considers that your home design has the ability to act as a dynamic system that impacts every aspect of our physical, mental-emotional, and even spiritual well-being. 
With the understanding that life constantly changes and evolves, Kim offers solutions for your home that go beyond the aesthetic to focus on the invisible factors that impact harmony with yourself, your relationships, and your home, office or store. Weather you would like to revitalize your style quota while enjoying that "feel-good" ambiance that Kim is known for, gain new ways to re-use all the great items you already own or add a new layer of strategy that uses your home to support your wellbeing. 
This virtual consultation is the perfect defense for the emotional support we all need as an immersion into a new way of thinking about space.
It was founded with the conviction that design when intuitively cultivated, brings forth powerful transformation.  Referred to as an "urban healer" for her extensive training in the psychology of design combined with a polymathic family lineage rooted in natural sciences and the metaphysical arts, Kim creates offers suggestions virtually for your modern look and feel that can best be described as Sacred Luxe.
Daughter of revered Shaman Melinda Joy Miller and a second generation Feng Shui Master, Kim utilizes a series of  ancient and indigenous practices drawing upon sacred elements found both within and without a space, to design highly vibrant, healing, kaleidoscopic habitats.
As a designer, consultant, lecturer, and teacher Kim's signature process of reaching beyond the aesthetic to create spaces with spiritual and emotional resonance are now encapsulated in this unique online consultation (as well as a series of dynamic digital workshops!).
This signature consultation offers all the great suggestions you would get from any talented interior designer or feng shui consultant but so much more. Upon request she will offer unique strategies such as addressing how your home can impact your…
Stress Levels

Relationships

Children

Family Dynamics

Health & Well-Being

Sleep

Anxiety

Depression

Creative inspiration
Kim gets to the core dynamics of you, your space and your relationships to trigger your emotional needs while making your space more stylish, functional and ambient.
She utilizes her signature mix of creativity, feng shui, design psychology and shamanic astrology (a technique that allows her to tap into a personalized color and natural element pallet that is best for your sense of personal balance – this technique comes from the Seneca Nation for which her mother is a keeper in the Medicine Wheel of Peace).
How It Works
First, Kim will interview you personally to delve into your specific needs, sensibility and style so she can customize a look and plan that is specific to you. Next, after careful review of your photos and project details, Kim will prepare a list of creative ideas, floor plan and shopping links for you to review. Once you let her know which items you approve, she will create mood boards so you can see how the conceptual ideas will look together. Then, you can run with all the ideas on your own or have Kim make the purchases for you and enjoy special discounts. Either way, she will be to offer solutions and support through the final stages of the project.
You can do just one short session or work with her weekly or monthly to progress more in-depth over time. The entire process can be online .
What You Get
•    A shopping list of products from any store you wish or new resources from Kim's worldwide library
•    A floor plan with a list of scale and style notes so if and when you would like to shop yourself, you get the right stuff.
•    Guidance for art, furniture and decor placement
•    Tons of creative ideas for every last inch or any area you wish Kim to focus.
•    Support and guidance at every stage
•    Mood boards or rough renderings
•    Tons of creative ideas
•    Personalized Color Plan (using feng shui, design psychology, shamanic astrology as well as a creative analysis of your existing finishing and decor)
•    Analysis of how your space may be impacting your health, goals and relationships (upon request).
•    Strategic suggestions to use your space as a tool to support your relationships, health and goals (upon request).
•    Support and guidance at every stage
Added Optional Perks
We draw from a unique set of design strategies to create a distinctly personalized approach. Whether you would like us to set up the space to harmonize your relationship by coming up with a design that captures both your varying sensibilities, create a restful sanctuary or design an artful space that inspires productivity so you can love the space you work in  — we are well experienced in creating spaces that have the underlying intention to positively impact your mind, mood and quality of life.
Additionally we offer a few more items that compliment this service…
•    Personalized Feng Shui Charts – $279 + $199 per additional floor or full exterior
•    Personalized Color Plan  – $149 (individuals) – $249 (couple) – $279 (family) – $449 (corporate team)
*We use color strategically. Once we know what your intentions are we can use color to lift your mood, stimulate creativity or get you to better relax. The Color Chart gives you a detailed look at which colors are best for you and which colors are best to avoid. They can even offer advisement about which colors are good for you as a couple, family or corporate team.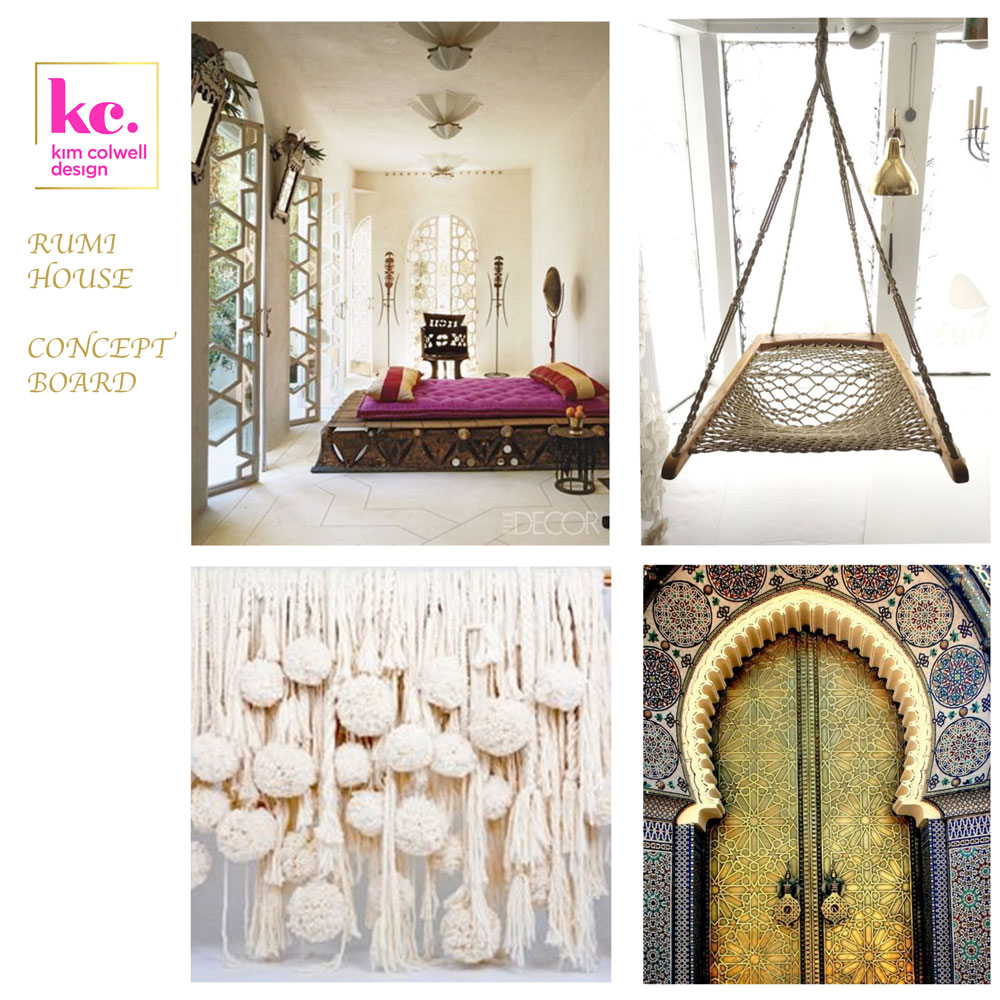 What We Need To Get You Started
•    Images of existing furniture, art, finishes, wall colors or decor that you would like us to work with.
•    Plans or a hand drawn map with dimensions.
•   A link to your pinterest board or photos that illustrate your style.
•    Your birthday (you heard that right!). As you may have gathered, Kim's design process is unique. She has a technique that she uses to personalize colors for you as an individual, couple, family or team. Once you use this approach you will never want to do a design without it….promise!
•   Click on the questionnaire to answer a few basic questions and we are all set!
Fees
2 hour virtual consultations start at $500 for two hours or offered in increments of 15 minutes at $250 per hour
Virtual Consultation fees vary based on the amount of rooms, your specific needs and what you are starting with. We put our heart into every project and make each space personalized to bring our your individuality and maximize the beauty for any budget. We even save you approximately 10% off purchases from almost any store world wide.
Where We Work
Zoom consultations are offered worldwide. Upon request, Kim can fly to you for one or more days for intensive work and then guide you online for the remaining aspects of the project. Kim is based in Los Angeles.
Discover More
Join our mailing list for class and lecture updates, read case studies for more information on our signature process or see what our clients have to say about the signature spaces we have created for them.