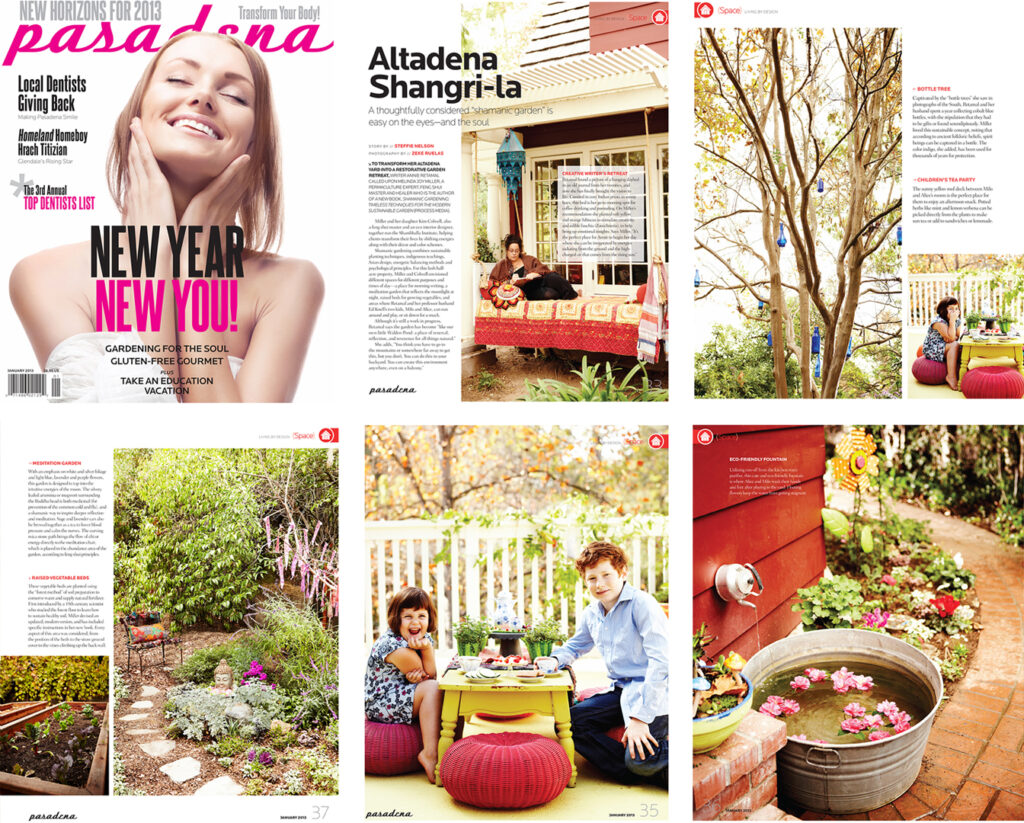 SUSTAINABLE GARDEN DESIGN | KIM'S GARDEN DESIGN COLLAB 
Thrilled to have our sustainable garden design featured in Pasadena Magazine. This sustainable garden project was a labor of love with my mother, Melinda Joy Miller, author of the book, Shamanic Gardening: Timeless techniques for the modern sustainable garden. It features a meditation garden, kid's garden with a sustainable water source for the fountain (their dishwasher!), a tea garden, and veggies planted with our water conservation techniques used by the ancient Pablo Indian tribe (so cool!).
The meditation garden contains plants that are straight out of any shaman's garden such as sage and lavender which are protective, mug wort for the cold and flu season and several silvery leaved plants that are specifically good to glisten in the moon light which represents your sub conscious and ability to tap into your intuition.
The tea garden has many herbs that are perfect to trim for instant medicinal teas.
DESIGN CREDITS
Article was written by Steffie Nelson
Garden Design by Kim Colwell & Melinda Joy Miller.
OUR CREATIVE COMMUNITY
If you enjoy our posts we hope you will share them with your friends and invite them into our creative community by sending them a link to our blog.
Stay in touch through our mailing list.
MORE INSPIRATION
Follow us on instagram.  
WORK WITH US
Book session with Kim to gain a radically new and innovative perspective on your home or business. Kim offers full service interior design and a full roster of wellness design short guided consultations that will change the way you view space for life.